Megacommunities bridge STEM gap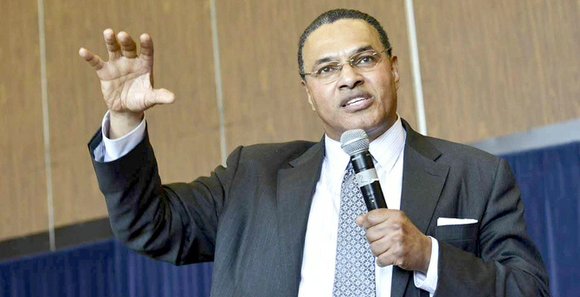 Lynne M. Holden, a board-certified emergency medicine doctor at Montefiore Medical Center in Bronx, N.Y., said that she had never heard of megacommunities before the November health care summit.
Holden's group included a Howard University graduate who works for NASA as an instrument manager and aerospace engineer, the liaison to the Howard University Academic Community at Howard University Middle School of Mathematics and Science, a professor and board-certified clinical pharmacist specialist of Howard University School of Pharmacy, and a director from the Maryland Department of Health.
Holden's group met with students, educators, and parents and found that the number one reason that minority students did not pursue science and math careers was a lack of confidence.
"Either they were told they could not do it or they believed in themselves that they couldn't do it," Holden said.
Parents said that a lack of resources and a lack of confidence in their children drove them away from encouraging their children to pursue STEM careers.
Holden's megacommunity built on the infrastructure of a non-profit Holden co-founded in 2006 called "Mentoring in Medicine," an organization that encourages, inspires and educates students about careers in science.
Holden's group organized a Twitter party to engage students about STEM careers and utilized other partnerships to help students create computer-animated Affordable Care Act public service announcements .
"We always teach our students that they are community health care ambassadors and that their job is to save a life," Holden said. "They may not know how to suture or do complicated medical surgeries, but their words and their actions can help save a life."
Herbert C. Buchanan Jr., CEO of Howard University Hospital, said that many students have the kind of capability and aptitude to excel in STEM fields but they aren't encouraged mostly because of their circumstances.
"Without reaching out to the students and parents, without creating an environment where the [students] can be successful, without schools that are committed, we won't significantly improve," Buchanan said. Buchanan said that the success of the megacommunities has to be felt in the urban neighborhoods that they serve and has to be measured over time.
"Whether that's more people going to see a physician, more people accessing insurance, having better relationships with their primary care providers or just being more educated, some of those things are intangible and harder to measure," Buchanan said.
Those intangibles will be just as important when it comes to measuring the success of the megacommunity on decreasing health care disparities and the minority STEM pipeline. Buchanan said that, down the road, researchers could look at incidence of disease and measure visits to primary care physicians in those neighborhoods to determine the best strategies.
Buchanan said that the magic of the megacommunity model is the ability to foster those nurturing environments to create opportunities where stakeholders can share in the rewards from those investments in our future.
"So, if a parent says, 'I'm interested, but the programs aren't offered at the school or transportation is an issue or the opportunity is at a private school and I can't afford it,' there are resources to address those needs," Buchanan said.