DFW Airport transit station offers global competitive boost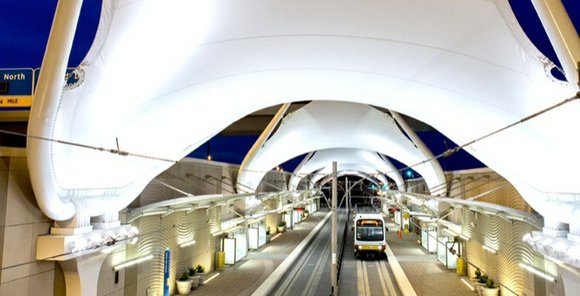 Special to The Dallas Examiner
Dallas Area Rapid Transit's newest light rail station will connect Dallas/Fort Worth International Airport to North Texas' public transit system, an amenity that gives the region a competitive advantage in attracting global corporations.
The station will open on Aug. 18, making the airport the third busiest in the United States with a rail connection to the city center, behind Hartsfield-Jackson Atlanta International Airport and Chicago O'Hare International Airport.
The rail connection at the airport puts the Metroplex on more equal-footing with all of the major competitors for corporate relocations.
"One of our greatest goals is to bring more companies and jobs to this region," said Dale Petroskey, president and CEO of the Dallas Regional Chamber. "Light rail service at DFW Airport is a big competitive advantage for us because it's something many major metropolitan areas in the U.S. cannot offer."
In fact, transportation infrastructure ranked second in the list of most important location criteria, according to Site Selection magazine's October 2013 survey of corporate real estate executives.
"North Texas already has a wonderful reputation internationally as a business-friendly environment, and the new rail connection makes it easier for international and domestic business travelers to reach employment centers across our region," said Mabrie Jackson, president and CEO of the North Texas Commission.
The region is well positioned to compete in the global marketplace, according to Dr. Terry Clower, former director of the Center for Economic Development and Research at the University of North Texas.
"The synergy between the Dallas area's two airports, DART and the highway infrastructure make North Texas a very competitive and compelling place to be," Clower stated.
Rail access at the airport also gives Dallas-area residents new travel options to reach job opportunities around the country and the world.
International corporations like Bank of America – which has one large branch in the Bank of America Plaza a block from DART's West End Station and a Plano regional office within walking distance of Parker Road Station – can offer employees another way of getting between work and the airport besides driving.
"As a major employer across the region, we see tremendous value in DART's new service and believe it presents compelling growth opportunities for new business through corporate relocations, conventions and other major events that require large groups of people to travel to and from DFW Airport," said Richard Holt, Dallas market president for Bank of America.
For more information, visit http://www.dart.org.