The family values that shaped a King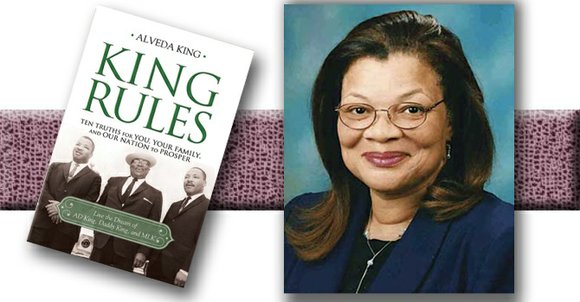 The Dallas Examiner
Fifty-one years ago, Dr. Martin Luther King Jr. touched many hearts and changed the course of American history as he stood before thousands at the Lincoln Memorial and delivered his unforgettable I Have a Dream speech. A towering icon of the Civil Rights Movement, the charismatic preacher dedicated his life to using nonviolence as a means to secure equal rights for all.
He won the Nobel Peace Prize in 1964 as a result of his peaceful resistance to racism in America, and his life and legacy are honored each year with a federal holiday. Some may wonder: What values molded such a great man?
His niece, Dr. Alveda King – the daughter of Martin's younger brother, A.D. King – shed light on these values in her latest book, King Rules: Ten Truths for You, Your Family, and Our Nation to Prosper.
She commented that she decided to write the book after receiving many questions regarding her uncle.
"I would get so many different questions on how [I'm] related to Dr. King," Alveda King said. "People [would also ask] what caused him to be such a man of leadership and courage. All of those answers were in something I called the King's Family Legacy, so I wrote the book to answer questions people had."
She described the King Family Legacy – what she credits as having fashioned MLK into an extraordinary leader – as 10 values that have guided her family through generations of triumph and tragedy. The values, she indicated, were universal, and could be viewed as rules to live by in order to better one's life.
A synopsis of the 10 rules:
One: Make Home a Priority
At the beginning of the book, Alveda King gave readers a glimpse into the "Birth Home" – now a national historic site in Atlanta – where her uncle, father, and aunt were born and raised. She detailed how her grandparents always made home a priority and created a loving environment for their children.
Every night the family ate supper together at the dinner table, each person was encouraged to express his or her thoughts and experiences. Alveda King commented that this practice allowed the children to develop their identities and build communication skills.
She added, while growing up, she too was encouraged to express her mind, and that she tries to maintain this practice with her own family today. She communicated that the entire King family often gathered for various events, which she said notified all members of the importance of family as a unit, and that everyone's presence was cherished. Furthermore, she expressed how the family kept a God-centered home, and explained that when God is at the center of the home, love, honor, respect, peace and humility are present.
Two: Serve the Family
Alveda King wrote that MLK came from a lineage of great men, recounting that his father, grandfather and great-grandfather were all preachers and fought for civil rights.
His great-grandfather was a slave who knew about the Bible and preached to other slaves.