Monday night forums strive to empower citizens, educate voters
The Dallas Examiner | 8/21/2014, 5:31 p.m. | Updated on 9/15/2014, 2:59 p.m.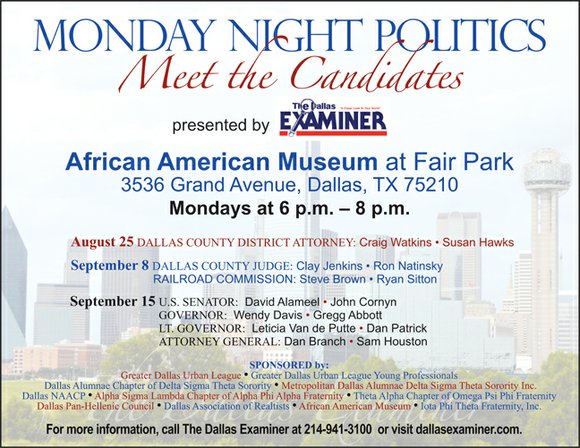 DALLAS — Monday Night Politics – Meet the Candidates is a political forum in which candidates are invited to present their platform to local residents. Also, residents in attendance can talk directly to the candidates and ask questions that will help them decide which candidate will best meet the needs of their community.
Election Day is Nov. 4. It is important to know who the candidates are and their viewpoints. Also, we need to know how candidates that are running for re-election have voted in the past, bills they have authored and the services they have performed for the community.
MNP forums are presented by The Dallas Examiner as a service to the community, in an effort to educate and inform voters, as well as empower those who usually do not vote to become educated and exercise their voting voice to help make a difference in their community.
All forums are free to the public and held on Mondays from 6 p.m. to 8 p.m. at the African American Museum, located at 3536 Grand Ave. The next upcoming forums are as follows:
On Aug. 25, the forum will feature candidates for Dallas County District Attorney – Craig Watkins and Susan Hawks.
On Sept 8, the forum will feature candidates for Dallas County Judge – Clay Jenkins and Ron Natinsky; It will also feature candidates for the Railroad Commissioner Position 2 – Steve Brown and Ryan Sitton.
On Sept 15 – Please note that this forum has been canceled.
The Dallas Examiner does not endorse candidates. Sponsors for these forums are non-profit organizations that do not endorse candidates either. They include: Urban League of Greater Dallas, Greater Dallas Urban League Young Professionals, Dallas Alumnae Chapter of Delta Sigma Theta Sorority, Metropolitan Dallas Alumnae Delta Sigma Theta Sorority Inc., Alpha Sigma Lambda Chapter of Alpha Phi Alpha Fraternity, Theta Alpha Chapter of Omega Psi Phi Fraternity, Dallas Alumni Chapter of Kappa Alpha Psi Inc., Omega Mu Omicrom Chapter of Alpha Kappa Alpha Inc., Dallas NAACP, Dallas Association of Realtists, Pan-Hellenic Council, African American Museum, Iota Phi Theta Fraternity Inc., KHVN and 411 Reality Radio.
Turnout during the forums is steadily growing with help from our sponsors and candidates that participated and of course, the community.
Important dates leading up to Election Day:
Last day to register to vote - Oct. 6
First day to early vote - Oct. 20
Last day to early vote - Oct. 31
For more information regarding Monday Night Politics - Meet the Candidates, call
The Dallas Examiner at 214-941-3100.