Fashion show fuses visual, performance art
MIKE McGEE | 8/22/2014, 9:15 p.m.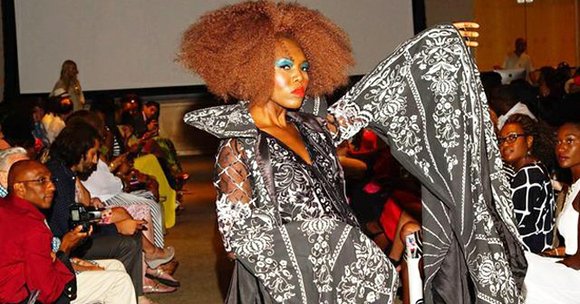 The Dallas Examiner
As camera flashes flared and world music thumped inside Rosine Hall at The Dallas Arboretum, the city carved out another deep notch in its standing as a couture beacon of the world. Fashion Arena, the latest event by The Fashion Opera duo of Antonio Wingfield and Darnelle Sanders, was a large-scale effort that blended a fashion show, audiovisual staging of original poetry, and marketplace into a showcase of local design talent on Aug. 10.
"I saw that around the world there are millions of unhealthy relationships with beauty and fashion," Wingfield said about his love of history, a passion that drove his imagination while planning the theatrical affair. "You can go into a land and you can merely look at what people wear – what people hate in terms of clothes and what they celebrate in terms of clothing – and you can learn a wealth about the history of the nation as it relates to attitudes and perceptions, and religion, economic status and class, and race and ethnic group."
The designers featured that afternoon were all based in the Dallas/Fort Worth Metroplex yet their creations reflected the world in both form and materials. Costume-inspired dresses of cotton and silk trailed cape-like trains or kimono sleeves that could be pulled up to emulate a butterfly's wings. Simple men's clothing recalled Italian designers while curling tendrils of thin copper twisted about the necks and dangled from the ears of the women walking the runway. Spiked heels buckled at the ankle shared the spotlight with silver lace-up high-top sneakers during one segment. Such variety employed in the expression of self spoke to fashion fan Ashley Roberts.
"This was my first time coming to a fashion show and I loved it," Roberts gushed.
Dressed sharp in a crisp brown shirt, black bow tie and a silver piercing sparkling in her right eyebrow, the runway-show newbie talked about how Fashion Arena mirrored her own style philosophy.
"The different types of beauty that you see throughout the whole show are amazing," Roberts said as she described her impression and ruminated further upon her fashion choices as well as those of her companion, Tracey Alladin.
"It's one of those things where we kind of don't like to step outside the house unless we fit – or however we're feeling that day goes also with our clothing. If we're feeling excited about the day then of course we're going to go push that extra step."
Alladin agreed, voicing that the variety of clothing and accessories on display during the show impacted her the most. "It was all about the different fashions, the different colors," she affirmed. Wrapped in a calf-baring lightweight multicolored dress, Alladin added that she used her sense of style to form an identity that projected her personality but also defied the social conventions of age.
"You're looking at the young and the old," she declared about Roberts and herself. "I'm 43 and she's 22 so I still try to wear it well."