Merkerson issues health challenge
SHAKARI BRIGGS | 8/22/2014, 9:18 p.m. | Updated on 8/28/2014, 2:16 p.m.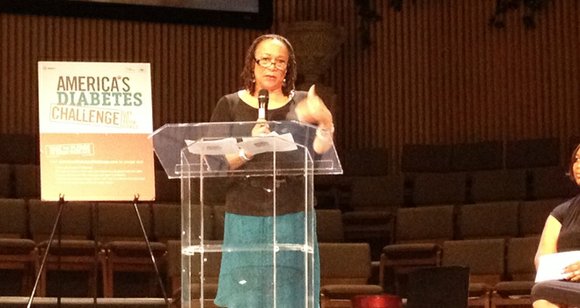 The Dallas Examiner
Eleven years ago, award-winning actress S. Epatha Merkerson received a diagnosis that would forever change her life – type 2 diabetes. After that moment she decided to make the necessary changes to take back her life through healthy eating, exercise, medication and self-motivation, all of which she reminded attendees are essential during the American Diabetes Association's Live Empowered event at Concord Church on Aug. 14.
"I went to a booth set up by Howard University where you could test your blood sugar," Merkerson said reminiscing of the moment she was diagnosed at a health fair. "The doctor said would you mind coming back to get tested when you're done because your blood sugar was high."
Merkerson has a family history of diabetes. Her father and grandmother both died from complications of the disease and her brother is battling the diagnosis today. She said she was still surprised by the diagnosis even though she was not taking proper care of herself.
"I was eating like a 12-year-old at 50," she said. "I was a heavy smoker."
Global health-care provider Merck along with Merkerson partnered to present Dallas with the "America's Diabetes Challenge: Get to Your Goals" in the hopes to encourage those with diabetes to know their A1C. The challenge is an educational program from Merck encouraging people with type 2 diabetes to know their A1C and talk to their doctor about setting and attaining their own blood sugar goals. Additionally, the A1C is a blood test that shows your average blood sugar level over the past two to three months and helps to see how well a diabetic treatment is working, according to the ADA.
There are 29 million people in the country who have diabetes, but almost half of the patients have not met their A1C goal, representatives stated.
"It's important we get this message out here and pledge your loved ones to take the challenge. Knowledge is power and it's important to work with your doctor to set up a health-care plan that works best for you," Merkerson said.
She further stated that the journey has been challenging especially with her fondness for food. However, she stays motivated through exercise and the support of family and friends.
"As my mother used to say, 'pull your knees from underneath the table,'" Merkerson said. "I'm not a cook, so that's been the hardest part for me. I'd like to stress I'm a work in progress."
Type 2 diabetes affects nearly 20 percent of the African American population, which is about 4.9 million people, according to the ADA. In addition, diabetes is the fourth leading cause of death in the Black community. About 10 percent of the population of Dallas County has diabetes and African Americans make up 25 percent of the community. For people suffering from type 2 diabetes, their body doesn't make enough insulin or their insulin doesn't work properly, which causes blood sugar levels to become too high. Once a person has been diagnosed with type 2 diabetes, it does not go away.