Former MLK aide donates papers to Alabama State
BRIAN LYMAN | 8/25/2014, 11:59 a.m.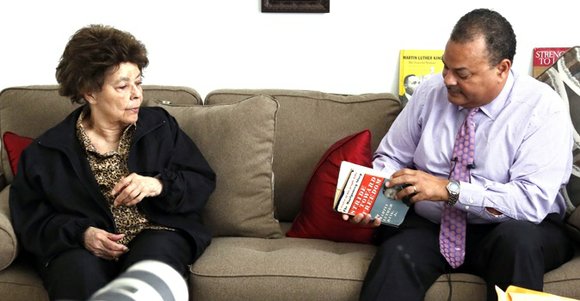 Montgomery Advertiser
MONTGOMERY, Ala. (AP) – Working as the Rev. Martin Luther King Jr.'s secretary, Maude Ballou would put in long hours despite the threats to her safety.
As her son Howard recalls, members of the Ku Klux Klan would be sitting outside the offices as Ballou worked late into the night on everything from the civil rights leader's correspondence to his travel itineraries, even his meals. Another time, her car was tailed on her way home.
But she kept up the work for King and the Montgomery Improvement Association as they fought against discriminatory laws in the city. King and Maude's husband Leonard had been fraternity brothers, and the families often shared dinner together. When King moved to Atlanta in 1960, Ballou went with him, helping the family get settled.
"My mother has really good organizing skills," said Howard Ballou, a television anchor at WLBT-TV in Jackson, Mississippi. "She could get people to do things in a sweet, Southern way."
The family donated portions of their collection of correspondence from those early days to Alabama State University's National Center for the Study of Civil Rights and African American Culture. They were honored by the center at a reception for patrons and donors Sunday afternoon.
The collection, said Howard Robinson, the center's archivist, serves as an important window into the early years of the Civil Rights Movement, and "a reflection of her work with the MIA and Dr. King."
The reception, an annual ceremony honoring patrons and donors of the center, also highlighted other recent acquisitions by the center, including home movies taken by John Winston of life in Montgomery in the 1960s and 1970s, including grounds-eye views of the 1965 Selma-to-Montgomery march; music recordings; photos and personal items reflecting the wide range of African American life in Alabama.
"The patrons and donors are crucial to the center's existence, and the success of its purpose," Robinson told the dozens of people gathered for the ceremony.
The center also honored Robert and Jean Graetz for their work with the center. The Graetz family worked closely with King and other Black leaders on the Montgomery Bus Boycott in 1955, and subsequent civil rights causes. The center works with the U.S. State Department to accommodate foreign visitors looking to learn about the Civil Rights Movement. Robert Graetz, a Lutheran minister, and Jean Graetz frequently give presentations at the center; Jean Graetz said Sunday they expect to have visitors from Iraq soon.
"Sometimes it feels like yesterday, and other times, it feels like a century ago," Robert Graetz said Sunday.
For Howard Ballou, having the King correspondence at ASU represented a full circle. His father worked as a music instructor at ASU; his mother worked at WRMA, the African American radio station that broadcast from the campus.
"It's where it started," he said.