Healthy Huddle: Football legends huddle to give back to their community
MIKE McGEE | 8/29/2014, 8 p.m. | Updated on 8/29/2014, 8 p.m.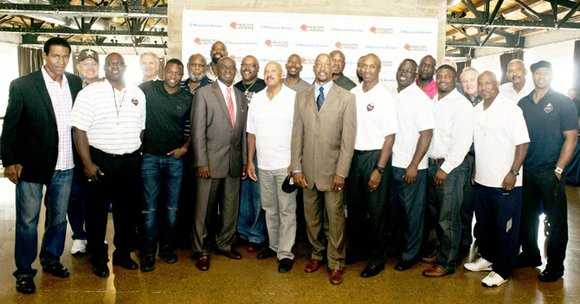 The Dallas Examiner
Even decades after his retirement as defensive end of the Dallas Cowboys, the accomplishments and personality of legendary Ed "Too Tall" Jones still gets football fans excited. During his 15 seasons with the organization, Jones had 106 career sacks and helped get the team to three Super Bowls, according to the team's records. During the 1970s, towering 6 feet 9 inches, he was a member of the history-making "Dooms Day" squad – the famous defensive backbone of the Cowboys.
Not one to rest on his silver and blue laurels, on Aug. 18, Jones joined several of football's greatest athletes and other members of the National Football League Players Association, Smile Brands Inc. and Monarch Dental, inside the Hickory Street Annex – not far from the Cowboy's original home field of the Cotton Bowl – to help announce the Healthy Huddle discount dental service program.
The "huddle" of these various entities will assist in easing the burden of dental bills for members of the NFLPA and their families, while also providing former players an opportunity to give back to their community through the Healthy Huddle Community Smile Project. The project enables any member of the NFLPA Dallas chapter to nominate and recognize an outstanding, underprivileged youth to receive free dental services at any of the 52 Monarch offices in Dallas.
"It's something that the community's been lacking for many years. It's so important for kids who are out there who need dental care [but] can't get it," Jones said during the launch.
Dan Wechsler, president and CEO of Smile Brands, discussed details about the goals of the partnership.
"One, to help provide former NFL players with discounted dental care for themselves and their families," he confirmed, citing that many ex-Cowboys across the Metroplex – as well as former Eagles, Steelers and Dolphins – played at a time when mouth-guards and faceguards were not as advanced and protective as they are now.
Wechsler also described how local children will benefit from former players personally involved in the team-up.
"We've partnered with the local chapter of the NFLPA to build something called Community Smiles, where they are allowed to nominate one patient per office per quarter – we have 52 offices here in the Dallas area – so it's a little more than 200 children who would get free dental care," he explained, revealing that Community Smiles Foundation also provides dental care to youth in impoverished countries.
"It's pure grassroots and that's why we're excited to be here. We've never done this before in the U.S.," he said.
This will also be a first for the NFLPA, which already has several charity programs, but they are geared toward the next generation of high school and collegiate athletes.
Crystal Strait, the Smiles for Everyone Foundation manager at Smile Brands, discussed the criteria for a child to be nominated for the dental program.
"We ask that the underprivileged youth be between the ages of 6 and 18, that they don't have dental insurance, and that they have no relation to or affiliation with Smiles for Everyone staff or relation to the football player," she said. "It's a basic program that can have a really deep impact."