Steps of Faith
MIKE McGEE | 8/29/2014, 7:56 p.m.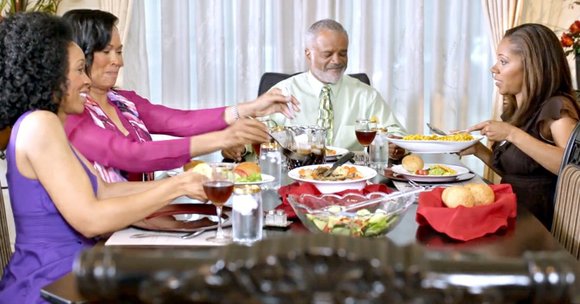 The Dallas Examiner
"Welcome, welcome, welcome," producer/actress Sharice Henry Chasi called out to the near-capacity audience inside the cavernous Texas Theater during the premiere of the faith-based, locally produced film Steps of Faith on Aug. 16.
"You are our test group. You're going to be the ones who tell us 'Y'all did all right,' or 'You did great,' or …'" she announced.
The screening marked the second feature film effort by Chasi and writer/director M. Legend Brown.
Brown, a Rockwall native, has screened some of his short films over the years at the Texas Black Film Festival and the Dallas International Film Festival. Hiding in Plain Sight, his first feature length film, also premiered at the Texas Theater in 2012. That cinematic endeavor went on to earn numerous independent film awards.
Steps of Faith includes the largest cast of all-star actors that Brown has directed yet: Charles Malik Whitfield (The Temptations), Chrystee Pharris (Passions, Scrubs), Ted Lange (The Love Boat), Tracey Ross (Passions) and Irma P. Hall (Soul Food, The Ladykillers). Numerous local performers such as Jim Blumetti, Gail Cronauer and Kenneisha Thompson also appear in the film.
Although religious in theme, the movie is a comedy with some family drama and romance mixed in. The story centers on Faith Houston (Pharris) who quits her accounting job to move to a small town at the direction of God. She eventually finds employment at the Steps of Faith farm, a rural treatment facility that uses hippotherapy to aid autistic and other special needs children.
Hippotherapy is a treatment method that involves riding horses to improve the motor skills and emotional well-being of patients. In the film, this creates conflict for Pharris' character since she does not have much of a rapport with animals, children or even her own religious convictions, for a time.
The film reunited Pharris with her Passions television mom Ross, an experience she said she treasured.
"She's always been my mother. She's always taken care of me," Pharris mentioned. The actress also remarked that seeing hippotherapy in use at Shadow Ranch in Sulphur Springs – which doubled for the farm in the movie – opened her eyes to the dedication that such therapists possess.
"I think it was when I stepped on the land and had the opportunity to meet the people who were actually giving their lives to do this – it changed my whole outlook on the whole situation. Of course, now I will become an advocate," Pharris said of Hippotherapy.
As a supporter, she urged of the attending audience "Donations, donations, donations," as they applauded in support.
The film had particular significance to audience member Khadijah Karriem with its depiction of a little known therapy presented in such a mainstream platform.
"I have a son that's disabled and hippotherapy is actually really effective for those kids," she confirmed the representation of the physical rehabilitation. "I just want to tell somebody, really." Karriem also gave Steps of Faith an enthusiastic review in how it presented its moral points.