ACA: It's about quality, affordable health care
MIKE McGEE | 12/7/2014, 8:44 p.m.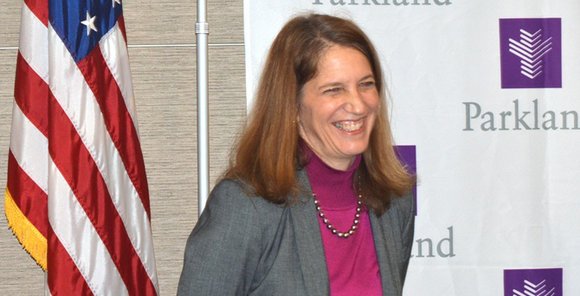 The Dallas Examiner
"Six hundred thousand people," Mike Rawlings declared inside Parkland Memorial Hospital, revealing the number of uninsured people living in the county. "AT&T Stadium six times, full of people that don't have health care who end up in places like this, or other hospitals."
The mayor was one of several officials within a small lecture room who welcomed Department of Health and Human Services Secretary Sylvia M. Burwell to the hospital on Nov. 24. Parkland is home to an enrollment center for the insurance marketplace established by the Affordable Care Act, also known as Obamacare.
The secretary toured the facility and publicly encouraged more citizens to enroll in the program by phone, online at http://www.healthcare.gov, or through an enrollment center. Open enrollment began Nov. 15.
"Last year in the DFW-area, 215,000 people signed up," Rawlings claimed. He said that the county has one of the highest rates of uninsured residents in the country.
The mayor remarked that there was a great need for quality health care; healthier people tend to do better in school and earn more money.
"This is not just about an individual but as a city as well," he continued, stating that, in a city where there was such an income disparity, the ACA coverage provided a long-needed relief to struggling families. That need extended to his own family.
Rawlings' son Gunnar also used the website, he admitted.
"Last year we talked about it. He was uninsured. He was an independent contractor. He got online and bought himself a plan," Rawlings revealed.
County Court Judge Clay Jenkins, the leader of the Dallas County Affordable Care Act Coalition, was also present to welcome Burwell. He described what it was like having a parent who lacked preventative health care.
"I watched my dad have a fatal heart attack when I was seven in a park in Oak Cliff. He had undiagnosed coronary artery disease," said Jenkins, 50. "He was younger than I am standing before you today and I don't want that to happen to other people."
He noted that those lacking insurance who live outside the county still impact the city.
"When people in, say, Ellis County, or Kaufman County or Collin County don't have health insurance they find themselves disproportionately coming to Dallas County." Jenkins confirmed that causes local hospitals to carry more of a burden because of health issues that may have been mitigated or prevented if more patients were insured.
Eddie Bernice Johnson, U.S representative from the 30th Congressional District of Texas, was also on hand to support ACA enrollment. Jenkins attested that the representative was the only registered nurse in Congress, which gave her a unique perspective on ACA.
"I'm pleased to tell you that every member of my congressional staff are insured through the marketplace, as am I," said Johnson, who declared her admiration for Parkland. "When people get sick, I don't care where they are in the area, they think of Parkland. And Parkland has welcomed people because they are focused on the condition of the people, not who they are."