Black college students: We need Minister Farrakhan
ASKIA MUHAMMAD | 12/7/2014, 8:15 p.m.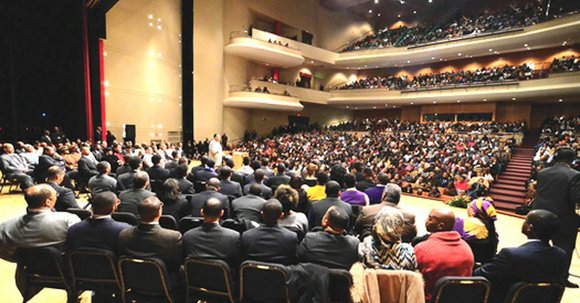 By ASKIA MUHAMMAD
The Final Call
BALTIMORE (NNPA) – After a 29-year absence from appearing at Morgan State University, the Honorable Minister Louis Farrakhan returned to the campus Nov. 22 with fiery words and encouragement for the young people at Morgan State and at all Historically Black Colleges and Universities, to do what their generation is called at this time to do.
"It's been very difficult for me to get into Black colleges and universities, to talk with our students," Farrakhan explained to more than 2,000 students and guests who packed the Murphy Fine Arts Center, including both balconies. "Fear chokes leaders. I really understand.
"But I am here tonight to help you out of your fearful behavior, because you, in that state have become an enemy to the rise of your people. I want to talk to the elders, and I want you to hear your brother, because I'm an elder like you.
"If I live a few more months, I'll be 82, and I'm not tired. I'm inspired. See, when you love your people, you don't get tired serving them. You get tired when you can't serve them anymore. You are ready to be served," the minister said.
"On the shoulders of this new generation, the hopes of our ancestors will be fulfilled," he continued. "We are at the time of the judgment, the time of the fall and destruction of this present world, in which we live. That is what you are called to do," the Muslim leader said, specifically to the young people in the audience.
Student leaders from HBCUs all over the country worked together for more than two years to bring about Farrakhan's return to the Morgan State campus. The hardest part of their challenge, the student leaders revealed, "Was getting the administration to understand that we needed Minister Farrakhan."
Inspiration despite opposition
The event was sponsored by the Student Government Association of MSU, whose president, vice president and dozens of other student leaders were in attendance along with Dr. Kevin Banks, the school's vice president for Student Affairs who was representing college President David Wilson who had a previous engagement and African American studies Professor Ray Winbush. Also present were Jill Carter, a member of the Maryland House of Delegates; the Rev. Willie Wilson, pastor of Washington's Union Temple Baptist Church; nationally known Pastor Jamal Bryant; and Larry Young, a radio host.
Activist Pam Africa, a founder of the International Friends and Family of political prisoner Mumia Abu-Jamal, was also a guest. She is also a survivor of the 1985 Philadelphia police department massacre of six adults and five children, members of John Africa's MOVE organization, when police dropped a fire bomb on their residence from a helicopter to end a standoff. Other special guests included Marshall Eddie Conway, former defense minister of the Baltimore Black Panther Party, who served 44 years in prison for a crime he did not commit. They joined dozens of other Christian pastors, Muslim imams, Nation of Islam officials and members of Omega Psi Phi Fraternity.