Blacks irate by grand jury decision not to indict
GEORGE E. CURRY | 12/7/2014, 8:38 p.m. | Updated on 12/9/2014, 12:46 p.m.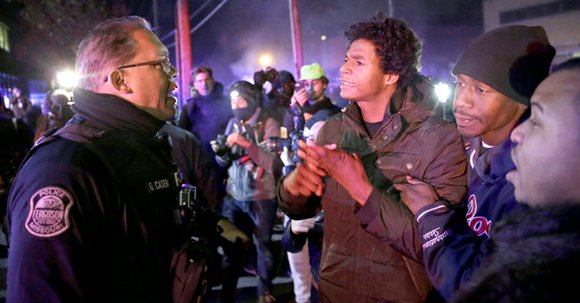 Charles Steele Jr., president of the Southern Christian Leadership Conference, said, "The grand jury's decision not to indict Officer Darren Wilson is not an end but just another painful step in the long journey to justice, a journey that Dr. Martin Luther King Jr., our founding president, and others walked with confidence and determination.
"Just as SCLC did not give up until the buses were desegregated in Montgomery, Alabama. Under Dr. King's leadership, we will not give quit until justice is the norm in America instead of the exception in the deaths of our unarmed Black men and women."
Benjamin F. Chavis Jr., president of the National Newspaper Publishers Association, a federation of approximately 200 Black Newspapers, said: "[The] announcement that the grand jury decided not to indict Ferguson, Missouri, police Officer Darren Wilson who killed unarmed 18-year-old Michael Brown in August 2014 is yet another systematic and tragic slap in the face of equal justice in the United States … We are the 'Voice of the Black Community' and the NNPA will not be silent or rest until there is justice in the Michael Brown case and other cases of racially motivated police killings and violence in our communities across the nation."
The NAACP announced that they had initiated a seven-day, 120-mile march from Ferguson, Missouri, to Jefferson City, the state capital, on Saturday.
"The death of Michael Brown and actions by the Ferguson Police Department is a distressing symptom of the untested and overaggressive policing culture that has become commonplace in communities of color all across the country," said NAACP President Cornell William Brooks.
"Our 'Journey to Justice: Ferguson to Jefferson City' march is the first of many demonstrations to show both the country and the world that the NAACP and our allies will not stand down until systemic change, accountability and justice in cases of police misconduct are served for Michael Brown and the countless other men and women who lost their lives to such police misconduct."
Melanie L. Campbell, president and CEO of the National Coalition on Black Civic Participation, said, "[the] decision by the grand jury in Ferguson, Missouri, to not indict Officer Darren Wilson in the shooting and killing of Michael Brown who was unarmed is a travesty of justice. Further, we believe the St. Louis County Prosecutor Attorney Robert McCulloch's gross mishandling of this case is inexcusable … We join the civil rights and social justice community in a call for an end to racial profiling of our young Black men and women who are losing their lives across the country at alarming rates at the hands of police officers who are sworn to protect and serve."
Attorney General Eric H. Holder mentioned that there are two separate Ferguson-related investigations underway, one into the shooting of Michael Brown and one into the broader conduct of the Ferguson Police Department.
"I want to emphasize that we have two investigations that are ongoing," Holder stated Nov. 24. "As I've said many times before and reiterated in my statement last night, the department's investigations will continue to be thorough, they will continue to be independent and they remain ongoing. They will be conducted rigorously and in a timely manner so we can move forward as expeditiously as we can to restore trust, to rebuild understanding, and to foster cooperation between law enforcement and community members."
Jeffrey Mittman, executive director of the American Civil Liberties Union of Missouri, said:
"The grand jury's decision does not negate the fact that Michael Brown's tragic death is part of an alarming national trend of officers using excessive force against people of color, often during routine encounters. Yet in most cases, the officers and police departments are not held accountable. While many officers carry out their jobs with respect for the communities they serve, we must confront the profound disconnect and disrespect that many communities of color experience with their local law enforcement.
"The ACLU will continue to fight for racial justice. We must end the prevailing policing paradigm where police departments are more like occupying forces, imposing their will to control communities. This 'us vs. them' policing antagonizes communities by casting a blanket of suspicion over entire neighborhoods, often under the guise of preventing crime."