Dallas ISD issues progress report
MIKE McGEE | 12/7/2014, 8:42 p.m. | Updated on 12/9/2014, 11:53 a.m.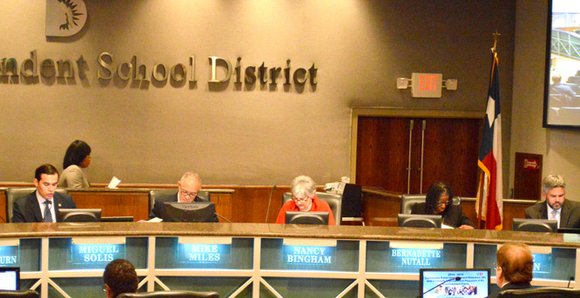 "What explains that?" she asked. "A number of schools – to decline like that, is pretty substantial."
Superintendent Mike Miles spoke up.
"Looking at a macro level it's not a secret across the country and in Dallas what the challenges are," Miles said, asking listeners to look at the research into some of the common indicators in low-performing schools.
"One is, there are challenges that come with poverty. There are challenges that come with students whose second language is English. There are challenges when there are not effective teachers in the classroom. There are challenges where there is not effective leadership in …"
"Ladies and gentlemen, this district has work to do," interjected Board President Miguel Solis as spectators called out to shut down Miles; several in the audience viewed the superintendent as adding to the problems of the district. Most recently, Miles had Nutall removed from the Dade campus by police on Oct. 13. That incident is being investigated by TEA.
"There are many individuals in the crowd tonight who are taking our public institution which we were elected by the people of this city to do the work of this district," Solis continued.
He warned that if disruptions continued he would call a recess and end the meeting. Miles continued to address the questions Jones posed and brought up different points the district has gotten in feedback from area principals.
"One is instructional leadership. One is higher expectations – culture and climate that supports, and then leadership of the school," he voiced.
As an example of what was being done to affect change, Miles indicated that on a visit to Boude Storey the week before, the principal and staff were working to meeting the task of getting their campus off of the IR list.
"They understand those challenges and I'm very proud of those teachers and the staff, and the principal and the [assistant principals] there," he declared. "If you go there today you'll see them working on the things that matter the most."
Miles said he predicted that the school will be getting off IR at the next round of campus assessments.
Jones said she hoped that all 43 schools would be able to get off the state's IR list and decreed, "Because that, in my opinion, should be the goal. At the end of the day, we want all of these schools to have the necessary resources and means to be able to be high-quality schools and to serve our children's needs."
According to the DISD website, the motion to approve the improvement plans for Improvement Required and Formerly Improvement Required Schools was unanimously passed by the trustees at the board meeting that took place later that evening after the hearing.