Forever – Home for the Holidays
Families offer foster children a new home, stability and love
DIANE XAVIER | 12/7/2014, 8:46 p.m.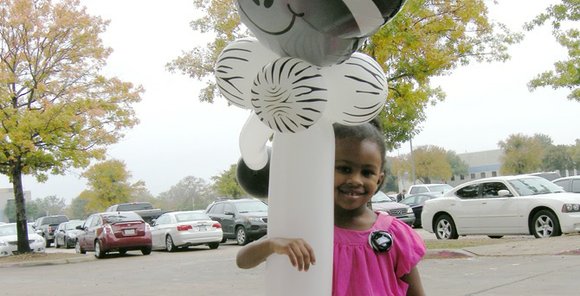 The Dallas Examiner
Jennie, a mom who has two biological daughters of her own, has been waiting 19 months to adopt a young toddler named Elijah.
She and her husband can't have any more children of their own, so they decided to get involved in the adoption process and participated with hundreds of other foster parents in Dallas County on Nov. 22. Around 60 children in the county were adopted at the Henry Wade Juvenile Justice Center.
The day marked the 15th annual National Adoption Day commemorated throughout the United States.
"We can't have any more children of our own and we wanted a boy," Jennie said. "So we are adopting Elijah today and are also fostering a newborn. It has been an amazing journey with rough battles but it has been worth every bit of it. We wanted to help children who have no home. Everybody should consider becoming a foster parent and without that, these children may not know what it is to be loved."
Dallas Court Appointed Special Advocates helped organize National Adoption Day through the Children's Council. The organization was founded in 1980 and the organization is a nonprofit made up of volunteers whose goal is to serve and be an advocate for abused and neglected children in court.
Dallas CASA joined forces with Child Protective Services, the Dallas County Sheriff's Department, Dallas County District Clerk, Dallas County Juvenile District Courts and Dallas County Commissioners Court to celebrate the adoption process and place foster children in a secure, loving home.
"National Adoption Day is a day when courtrooms all over the country open their doors to celebrate the adoption of children who are leaving foster care for safe and permanent homes and it is held on a Saturday before Thanksgiving every year," said Ben Wilkins, program director of Dallas CASA. "The three main things it does are it provides families with a very friendly and fun atmosphere to celebrate their adoptions. Normally, courtrooms are not always the friendliest or the happiest places to be because of what is going on in a courtroom, but on National Adoption Day, we are doing nothing but adoptions and it is an expedited process."
Secondly, Wilkins said National Adoption Day clears space on busy dockets so judges can focus just on adoption cases and the adoption process can move faster.
"Lastly, National Adoption Day helps the public learn about the need for adoptive families who are in foster care," Wilkins said.
All of the children who were up for adoption have been in the care of Child Protective Services and they were removed from their homes because they were unsafe there and they were not able to go back to their families.
"So now, either an extended family member or maybe a foster parent is adopting them and it will be their forever family," Wilkins said. "For all of these children, it has been a very long journey. Some of them have come into care as infants or perhaps up into their teen years, and it has been a complicated court process to decide what will happen to them. All of these children have been with their adopted families for at least six months, some of them much longer and they have been waiting for this day when they can be sure that the family they have is their forever family. Today was a very emotional day for everyone because it is the day that the court and the laws say this is done. You are officially a family just like any other family. It is a huge celebration for everyone."