Forever – Home for the Holidays
Families offer foster children a new home, stability and love
DIANE XAVIER | 12/7/2014, 8:46 p.m.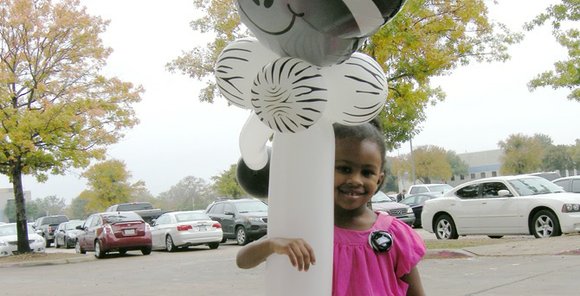 Wilkins explained that once a child is placed in foster care a six-month waiting period is often required before they can get adopted.
"One of the reasons why we have a six-month waiting period is to make sure the family and children are bonded and the family is sure they want to make this very important commitment," he said. "For children, it's a new step in a journey in which they have a loving family who has made a commitment to them and who will be their parent and along with that they get an extended family, kin and neighborhood. For parents, it is a chance to advocate to add to their family and to love someone who needs to be loved."
Many of the families adopting children faced Dallas County Judge Ken Molberg of the 95th Civil Court.
Molberg has been volunteering his time as judge on National Adoption Day for the past five years.
"I volunteered to come in and sit in the Juvenile Court to do this," Molberg said. "I am adopted myself and I know the benefits of adoption. What we deal with here are abused and neglected children. There is a vast need for people who will take these children in and give them a family which is everything to them. This is just my little part where I take my Saturday once a year and come over here to help facilitate this great event. We all know that we need to pitch in and do our part for those who need us and that is why I am here."
Molberg said he did not know he was adopted until he was 10 years old.
"I was put up for adoption in Houston over 60 years ago and I ended up in a great home with great parents," he said. "My mother is still alive in her mid-90's and I talk to her all the time. If I hadn't had that support system growing up, I would have never been a judge, I would not have been able to achieve an education like I have achieved. So it was everything to me."
Molberg said the process to find these children permanent homes can be an emotional roller coaster.
"There have been many times where I have had to turn around in my chair to avoid the tears streaming down my face because I am able to see what the public is not, but I can see the background that these children have come out of and I could not begin to describe to you what horror in many cases these children have been through and now to be a pivotal moment in their existence to where they are acknowledged to have a family structure for the first time in their lives is very meaningful."
According to Dallas CASA, there is quite a delay in finding homes for children who need to be adopted, including 500 children in Dallas County alone.
"There are far more children who need homes then there are homes," Molberg said. "If you really want to make a difference in your own life and in other's life, I cannot think of any other greater way than to do so by giving somebody life."