HIV/AIDS activists push for funding to address stigma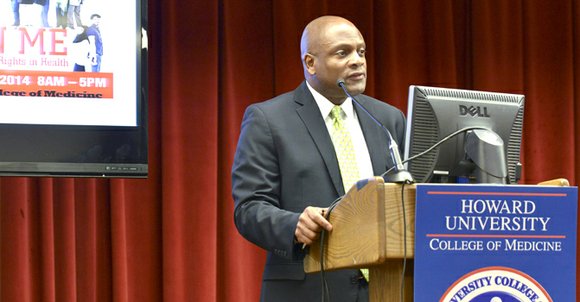 WASHINGTON (NNPA) - In an ongoing effort to combat the HIV/AIDS epidemic, physicians, health care workers and human rights activists want the government and the public to place more emphasis on the stigma associated with the deadly disease that continues to plague the Black community.
According to the Centers for Disease Control and Prevention, Blacks "accounted for an estimated 44 percent of all new HIV infections among adults and adolescents (aged 13 years or older) in 2010, despite representing only 12 percent of the U.S. population."
Not only are Blacks disproportionately affected by poverty, discrimination, higher rates of incarceration, but the CDC also lists those issues as well as the stigma associated with HIV/AIDS as socioeconomic risk factors contributing to the HIV/AIDS epidemic in the U.S.
Sohail Rana, an HIV/AIDS specialist and physician in the Department of Pediatrics and Child Health at Howard University Hospital, said that because the Black community is the most affected by the epidemic, it's up to Blacks to make it easier for other African Americans affected to come forward.
Rana questioned the effectiveness of investing billions in HIV vaccine research without adequately addressing stigma associated with the disease.
"How can you give someone the vaccine, if they won't come forward to even get tested?" Rana asked. "We need to put some balance into these efforts to make people accept their brothers and sisters with HIV of color."
HIV/AIDS activists praised President Barack Obama in 2009 for lifting the travel ban for people that are HIV-positive. The move cleared the way for the 2012 International AIDS Conference to be held that year in Washington, D.C.
According to The Henry J. Kaiser Family Foundation, a nonprofit focused on domestic and global health policies, the Obama administration requested $17.5 billion to care for people living with HIV in the U.S. and $929 million for domestic HIV prevention in 2015, a 1.3 percent increase over the 2014 request for prevention services.
The Kaiser Family Foundation also reported that the White House requested $57 million for the Minority HIV Initiative to "address the disproportionate impact of HIV/AIDS on racial and ethnic minorities in the U.S."
The goals of Obama's national HIV/AIDS strategy include: reducing new HIV infections, increasing access to care and improving health outcomes and reducing HIV-related disparities and health inequities.
Rana noted the efforts of Surgeon General C. Everett Coop in educating Americans about HIV/AIDS with his revolutionary pamphlet, titled "Understanding AIDS," that was mailed to more than 100 million households in 1988.
During his keynote address at the conference, Douglas Brooks, the director of the Office of National AIDS Policy, said he wants to issue a similar document, in print or online, during his term in office.
"The thing about going to every mailbox is that there was a chance that most Americans would have access to this document," said Brooks, adding that HIV/AIDS knowledge among Americans appears to be fading, according to research conducted by KFF. Some people believe they can get HIV from toilets or dirty utilities. "The level of misinformation and lack of information is pretty high, so we definitely want to work on that."