Fade Out HIV
Barbershops, salons help tackle epidemic
MIKE McGEE | 12/14/2014, 12:02 a.m.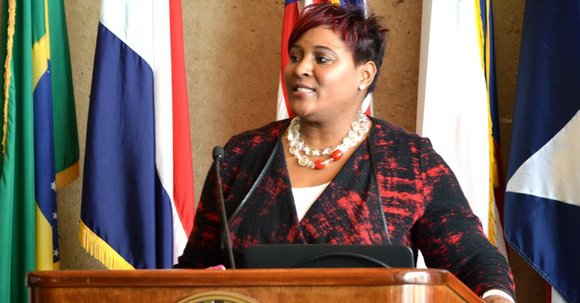 The Dallas Examiner
"I personally know about my status because I take my test every year," explained District 4 City Councilman Dwayne Caraway. He said he didn't need to take the test but added, "You never know when it may creep up on you; because you may not have it one day, that was just the day that you're lucky. It's important."
Caraway spoke candidly about his commitment to fighting HIV/AIDS during his testing routine at the Fade Out HIV Barbershop and Salon Initiative launch in the Flag Room at City Hall, Dec. 1. The initiative, which began Dec. 4 and will end Dec. 20, is intended to get the facts of HIV/AIDS education and prevention into the minds of young African Americans through local barbershops and beauty salons, he voiced. Part of that information will come via a three-week free testing tour that will take place at specific times at participating barber and beauty businesses so that the clients of the shops can find out about their own HIV status. The tour will run Thursdays through Saturdays at specific shops during Fade Out.
"HIV is so prevalent to our community, especially the African American community. However it is everywhere," Caraway emphasized. "We're not going to just get our hair faded out. We're going to fade out this HIV."
Zachary Thompson, director of Dallas County Health and Human Services, expressed that using barber and beauty shops to combat HIV/AIDS awareness was a great concept.
"You know why? Because they have literally the ears every day of Dallas, Fort Worth and North Texas residents," he explained as he stated that the city had one of the highest new HIV/AIDS infection rates in the county. "In the population 18-to-35 we're already seeing new increases of HIV/AIDS in Dallas, Texas."
The renewed increase in cases of the illness was due to lack of education, Thompson claimed. He also reminded those at the event about the tremendous stigma still attached to HIV and the price of such attitudes.
"I always remind everyone that it was Dallas, Texas, where a young lady was killed because she revealed that she was HIV-positive," Thompson explained.
He was referring to Cicely Bolden who was murdered by her boyfriend after she told him about her status.
"He killed her for nothing. Had he went and got tested, had he not engaged in unprotected sex, then this young lady – this mother, this sister – would still be alive today."
Bolden's killer remains HIV- negative.
The initiative will include 18 to 20 barber shops and salons, though more were able to sign up during the event.
It was a cause destined to bring everyone together, said Gerard Claiborne with Kingz of Cutz.
"Because it was a cause we all cared about," he voiced about the fight against HIV/AIDS. "It's your community. I don't care if it is Richardson or Plano, it is your community."
Another speaker, Jeremy Scroggins, representing Hip HOP Government, noted that the highest HIV rates in the city could be found in South Dallas and Oak Cliff. Those numbers are what prompted Karon Flewellen to step forward in the fight against HIV. The ZIP code in which her salon does business, 75216, had the highest new HIV/AIDS rate in the country about six years ago, she said. That fact prompted Flewellen to act.
"Since then I have partnered with the CDC on their national campaign where I talk to stylists and salon owners across the country about using their salons as a platform for HIV and AIDS," she confirmed.
"And of course there are family members that have been affected by HIV," Flewellen remarked about how the illness has touched her personally. "I had clients who were diagnosed as HIV positive."
Getting involved with the initiative helps Flewellen relate to her clients that she cares about what is going on in the community around her.
"We have to take HIV much more seriously," Caraway urged. "We have to take it for what it is."