Our Lives Matter!
National movement brings hundreds of marchers through Dallas streets
DIANE XAVIER | 12/14/2014, 12:06 a.m. | Updated on 12/15/2014, 3:47 p.m.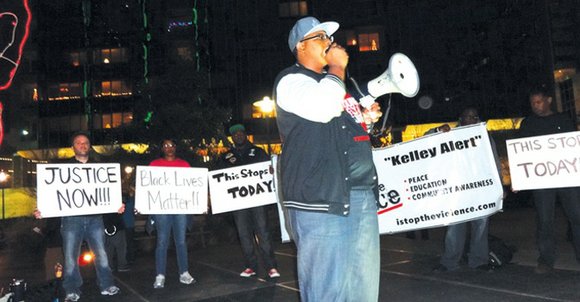 The Dallas Examiner
The fight for justice continued as hundreds of protesters of all ethnic backgrounds joined forces last week during a three day protest in Downtown Dallas against the police brutality that has taken place in Dallas and across the United States against young Black males like Kelvion Walker, Eric Garner, Michael Brown and Tamir Rice.
"If they don't respect our Black and Brown bodies, then they cannot respect our green dollars," said Olinka Green, who has been with the New Black Panther Party since 1991, as the protest began. "I say shut down the system, the whole system, the economic system, and the only way we are really going to get them to understand what we are talking about is to take to the streets and let our voices be heard. Also, economically, when we start hitting their pockets and not spending money, then they'll understand. But every time one of our children gets killed, we need to be in the streets. We need to be busy."
Green concluded that if people are silent, then there will be no change.
"This is our country," she said. "We died, we bled here and we worked here. If we don't say something about what is going on then who else is going to say something about it?"
Pastors, community leaders, students and families came together in front of the Earle Cabell Federal Building on a crisp Friday night in order to show their solidarity against the violence that was committed against Black males.
It was a peaceful protest as several people held signs against violence and then shouted, "No justice, no peace."
Rashida Jones brought her 10-year-old daughter, Raja Baldwin and her 10-year-old nephew, Elijah Parker, to witness the social justice movement.
"I brought them out here because it could easily be either one of them that is a victim of these crimes," Jones said. "Both of them are 10 years old, and a couple of days ago we had a 12-year-old get murdered. It's not the first time a child has been murdered by police. Also, I wanted them to be a part of history by participating in this protest because when they get older, I want them to be able to say I was there, I tried to do something to cause change for peace."
Jones said she has had discussions with her children and nephew about race relations after seeing all the police brutality against Black children in the news.
"Unfortunately, it's a reality that their lives are in danger every day simply because they're Black," Jones said. "I have to talk to my daughter and my nephew that if they encounter a police officer, how to move, how to talk. That if they are in a group with a bunch of Black kids, how to separate themselves. If they are in a car, turn their music down. These are things we have to equip our Black children with every day just for them to be able to survive. It's quite scary."