Gifting Christmas to local families
JESSICA NGBOR | 12/23/2014, 8:32 a.m. | Updated on 12/23/2014, 9:57 a.m.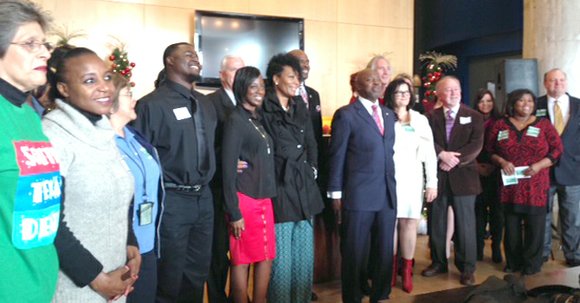 The Dallas Examiner
Mayor Pro Tem Tennel Atkins hosted the eighth annual Family Gifting Day on Dec. 8 as a part of his Home for the Holidays campaign, which helps families in District 8 provide their children with gifts for Christmas.
Since the downturn of the economy, families like those in District 8 have had more difficulty making ends meet and providing Christmas gifts and meals for their children. The goal of the campaign is to bring holiday joy to as many families as possible.
Atkins is committed to promoting economic development and held the first Home for the Holidays campaign in 2007. That year, 25 families were adopted and 70 families were fed. This year, approximately 45 families were adopted and 5,000 families were fed.
Families are nominated by Dallas ISD faculty and required to fill out a questionnaire to determine need. The families are later screened. Gifts can include toys, clothes, bikes and other interests.
"I wasn't even expecting a bike, that was like the icing on the cake. If it wasn't for this event, they wouldn't be able to get anything," Sandra Turner said.
Turner is a mother of three boys and has been out of work for a year now.
"This is a great opportunity to reach out to us, bring us hope and that's exactly what Christ wants us to do," Kirsten Fleenor said.
Fleenor is a mother of four adopted children. She is an active PTA member at her children's school, Kleberg Elementary, and was nominated by the school's counselor.
During the holidays, times can get really tough for families. Some solely can depend on this event.
"I got the call last minute, but it helps out a whole lot. I wouldn't have been able to do it on my own," said Vanessa Williams, a single unemployed parent of six children ranging in age from 2 to 10 years old.
The gifting event followed the annual District 8 holiday feast, held at Kleberg-Rylie Recreation Center on Dec. 6. Families were offered transportation to the center courtesy of Dallas County Schools. During the event, children could take photos with Santa and Mrs. Claus. There were also door prizes and dental hygiene kits were given away to participants. Adults received free Mary Kay and Advocare products. Entertainment was provided by Olympoxic Ballet Company Inc., Herbie K. Johnson Classic Jazz Ensemble and The Rev. James Jennings Jr. "The Mighty Travelers."
Many Dallas community organizations, other residents, as well as Dallas Cowboys Wide Receiver Dez Bryant, sponsored the events.