Jesse Jackson calls tech hiring 'outrageous'
GEORGE E. CURRY | 12/29/2014, 3:04 a.m.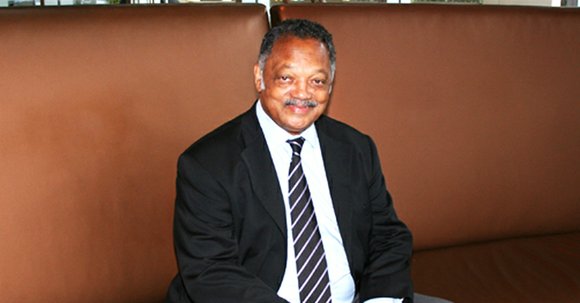 SANTA CLARA, Calif. – Jesse Jackson says it is "outrageous" that high-tech firms based in Silicon Valley hire so few women and people of color.
"Rainbow PUSH successfully challenged companies to release their workforce diversity data. We researched the racial and gender composition in their boardrooms, C-suites and workforce. The data is undeniable, and underscores the systemic under-representation of Blacks, Latinos and women in the industry," Jackson said last Wednesday at a technology forum here at Intel Corporation.
"Most companies have between zero and 3 percent Blacks in their tech workforce; virtually the same for their non-tech workforce. Of the 20 companies we researched, there were only three African Americans out of 189 total [on the] board directors; just one Latino. One hundred and fifty-three men and just 36 women. Eleven (over half) have all-White boards. Of 307 top C-suite leaders, there are just six African Americans and three Latinos. Two hundred and fourty-four men and just 65 women. Seven of the 20 companies have all-White leadership."
C-Suites or C-level executives is business jargon for a corporation's most senior executives. It is so named because they include titles that begin with the letter "c," including chief executive officer, chief operating officer and chief information officer.
Jackson said, "We should be disturbed by this data, because it is disturbing. We should be outraged, because it is outrageous – that in 2014, Blacks and Latinos, Asians and women are being left out of the tremendous economic growth, wealth creation and opportunity generated by the technology industry."
Earlier this year, Jackson announced a campaign to make the tech industry more diverse. He sent a letter to 20 major companies, including Apple, Twitter, Facebook, Hewlett Packard, Google and eBay, requesting company employment data. Over the years, the companies have been extremely tight-lipped as they resisted calls for releasing employment data, claiming it would be a competitive disadvantage to disclose such data.
The firms even went to court to obtain a ruling allowing them to keep employment figures on file with the federal government confidential. Under intense pressure – including Jackson raising the diversity issue at annual stockholders' meetings – they began slowly releasing the data to Jackson's Rainbow PUSH Coalition.
Twitter resisted disclosing its employment figures until Jackson mobilized national pressure on the company. He took to Twitter and used a ColorofChange.org petition drive to demand that the company be more forthcoming with its employment figures. The company acquiesced July 23, disclosing figures that show 59 percent of its staff in the U.S. is made up of Whites; 29 percent Asian; 3 percent Hispanic and 2 percent Black.
In his speech, Jackson defended the decision to challenge Silicon Valley.
"Many people ask me, 'Reverend, why are you in this tech thing?'" Jackson recounted. "Well, it's because access to technology – full participation in the technology revolution, is this era's civil rights imperative.
"It is the fullness of time. This is the requirement for this stage of national and global development. This is the fourth stage of the Civil Rights Movement: First, to end slavery; second, to end Jim Crow segregation; the third stage was the fight for the right to vote."