Cedar Hill celebrates Longhorns championship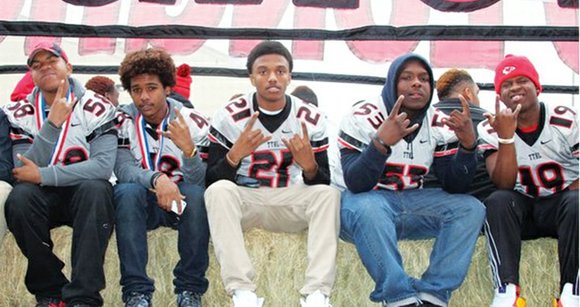 "I was shocked when they named me Coach of the Year," McGuire said. "It's huge, it's a big deal. I love these guys, I love the kids. My favorite part about coaching is being able to create strong men and give them something they can take away for the rest of their lives. We just believe in what we are doing each year and this just establishes us as one of the best programs in the nation."
The championship marks McGuire's second state title. McGuire led the Longhorns to their first state title in 2006, going 16-0. This is also his 11th season at Cedar Hill.
This season, the team's only two losses came against other nationally ranked teams that included Allen High School, ranked second, and DeSoto High School, ranked fifth.
"It's an incredible honor to think that MaxPreps ranks more than 16,000 high school football teams and that we are in the top 20," McGuire said.
Cedar Hill came back from a 24-10 deficit in the state title game to defeat Katy. They also stopped Katy's 31-game win streak.
The season was capped off with quarterback Justin McMillan, who led the team with 2,372 yards and 25 touchdowns. McMillan is a junior and is looking to add another championship to his resume before he graduates.
"It was tough and required a lot of sweat, tears and hard work," McMillan said. "I think we won the championship because we play as a family and play for each other."
Senior running back Larry Hill said it is a blessed feeling to be recognized nationally.
"We knew it was a long road and we worked hard for this road," Hill said. "People doubted us but we knew we had a family that had our back and we had their backs as well."
Hill currently has four colleges recruiting him.
Defensively, the Longhorns were led by defensive end Xavier Washington, a senior, who made 106 tackles that included 47 for losses and 23 quarterback sacks and seven fumbles.
Tammy Mariani, principal of Cedar Hill, also witnessed her second championship.
"We start out every year with this as our goal and some years we are not as successful as other years but we waited six years to be in this situation again," Mariani said. "It's wonderful to see young people understand that commitment, dedication, working hard and self-discipline pays off in a very big way. It's the best accomplishment that most of these young men have had in their life thus far and it just helps set that goal higher for the challenges they will face in the future."