Monday Night Politics: Candidates talk budgets, business and technology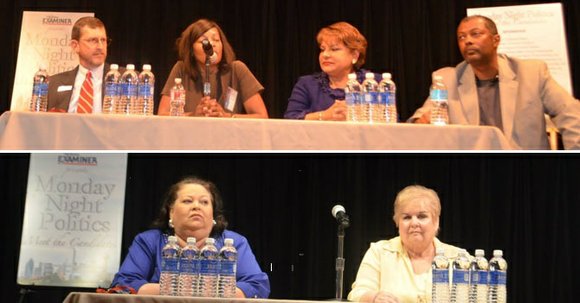 The Dallas Examiner
The race to get elected in key political positions in the Dallas region for the upcoming primary elections continued as another round of candidates championed for their cause at the Jan. 20 discussion of Monday Night Politics – Meet the Candidates at the African American Museum in Fair Park.
It was another packed house as citizens heard candidates running for office for the district clerk seat and also the Dallas County treasurer seat.
"We invite everyone, all of the candidates to Monday Night Politics," said Mollie Belt, publisher of The Dallas Examiner, who hosts the forum. "We do not endorse candidates and we could not do this without the support of our sponsors. We want to reach as many people as we can."
The forum was moderated by Casey Thomas, a DISD school teacher who is also a columnist for The Dallas Examiner.
The first round featured the district clerk's office. The candidates that are running include Kissi Jones, Tarsha Hardy, Rose Renfroe, Johnny Gomez, Felicia Pitre and Cathy Sanchez. Pitre and Renfroe were the only candidates present.
Pitre, who currently works in the district clerk's office by managing the criminal courts, began the discussion on why she should be elected for this position.
"I have a staff of 47 that I am responsible for and also have an imaging staff that I am responsible for," Pitre said. "I have been with the district clerk's office for seven years. I was also sent to work in the civil courts because of the need to complete the imaging project which was months behind on certain projects. Under my leadership, the project finished ahead of time. So that's something I am personally proud of. My position is a managing position. I am an administrator and as the district clerk I am going to continue to be an administrator and continue to move the department forward."
The next candidate competing for this spot was Renfroe.
"I got in this race on the very last day," Renfroe said. "I felt we needed someone with business experience, political experience, and life experiences and I have had success in all those areas. In the past, I have taken a $50,000 year business and turned it into a $5 million business. Currently, I am a mediator. I also served on the Dallas City Council many years ago, where we oversaw a $1.5 billion budget. I think one of the reasons I am the most qualified candidates for the district clerk seat is that I am objective. I am fair and don't get into cliques or any favoritism and I treat everybody with respect. Also, when I get into office, I would like to hire people who are in their 50's who are very productive and those who have trouble finding work who are also very productive. I am also a cancer survivor who is in excellent health. I am healthy, energetic and can get the job done."
When asked to describe what the role of a district clerk is, both candidates chimed in.