Monday Night Politics: Candidates talk budgets, business and technology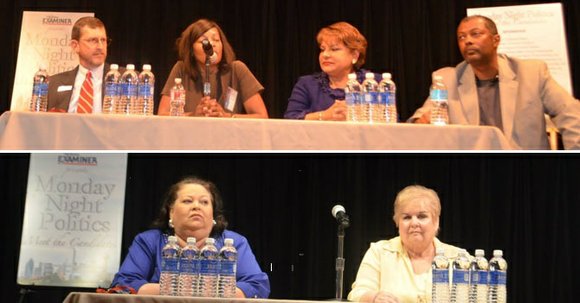 "This is not a political job but an administrative job," Renfroe said. "There is a $13 million budget to handle. It is a job for someone that has business experience. I have managed professional people, clerical people and blue collar workers so I feel that I have the best experience and am the candidate to vote for. Also, one thing that I would like to do for this office is to improve the morale of the staff. I feel like this office should treat people like you are a guest in our home. I would offer coffee, tea, water, soft drinks, donuts, so people are made to feel right at home."
Pitre also talked about her management experience.
"We currently have a staff of 232 in the district clerk's office," Pitre said. "As far as cliques, I don't know anything about there being cliques in the office. The district clerk is responsible for every document that is filed in our courts. We are the custodians of records. Currently, we are imaging those documents so we no longer have paper copies, but electronic copies. We have a great staff, a hard working staff and when I am elected district clerk, there will be mandatory training for the staff."
The next round featured candidates for the office of Dallas County treasurer.
All four candidates were present and included David Bradley, Bennie Brown, Paul Ingram and Pauline Medrano.
Brown started the discussion.
"What I would like to do is take my corporate experience and integrate that into this position," Brown said. "I have 25 years of executive leadership experience. I'm also a business owner who has owned a tax business for 12 years and I also run a non-profit that helps feed children in underserved areas."
Medrano talked about her qualifications next.
"The best thing you have is an informed community to vote," Medrano said. "I am an experienced and proven leader who has served on the Dallas City Council for eight years and also have 18 years of experience in an administrative position. I am committed to give the highest level of customer service to our citizens."
Ingram spoke next.
"I have 31 years of Dallas County government experience," Ingram said. "For the last seven years, I have been the financial administrator for the district attorney's office. This position is a smaller version of what the county treasure does. We make money, we disperse money, and then we account for the money. I am the best candidate because I know what needs to be done, I deal with the office on a day-to-day basis. I am also a long-time resident of Dallas and I have been married to the same person for 33 years."
Bradley was the last to introduce himself and said he has been engaged with the Dallas Democratic Party for the past 30 years.
"I have spent my entire 35-year professional career in the arenas of banking and financial institutions," Bradley said. "I understand the office of Dallas County treasurer and I am the only candidate in this race who combines that record along with community service."