Monday Night Politics: Candidates talk budgets, business and technology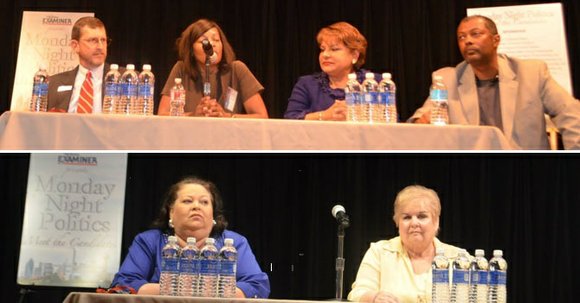 Bradley said if elected, one of his priorities would be to reduce the number of physical checks the office gets.
"I was absolutely staggered at just how many physical checks we produce not only how we transmit money outside the county but within the county," Bradley said. "That is an incredibly inefficient way to do things."
Brown said her goals are to improve the IT process, since she has experience working in information technology.
"To make sure all those processes are user-friendly for the external user as well as the internal user," Brown said. "When the IT processes are working, then you don't have all the delay time or frustration in that department."
Medrano said her goals would be to become more transparent.
"Looking for efficiencies and being accountable are important," Medrano said. "I have interviewed and gone to the Texas County's Treasurer's Association and everyone has said it is the controls, making sure everyone has proper controls. These are non-tax revenues that you take custody of and that you deposit so you want to make sure that you have proper controls at the treasurer's office."
Ingram talked about his plans for this office as well.
"First thing I would do is meet with the staff and see what needs improvement," Ingram said. "As far as processing checks, that starts with the auditing staff. They are the ones that tell the treasurer what checks to cut. The treasurer's job is to pay the bills for the county."