Phi Beta Sigma Fraternity Day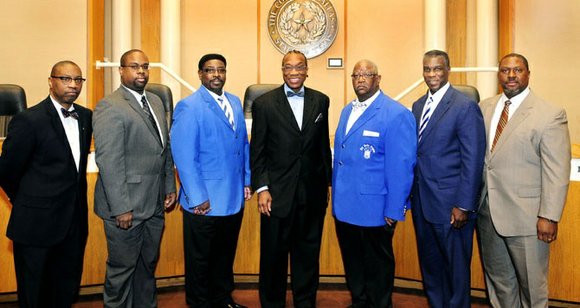 The Dallas Examiner
"A people without the knowledge of their past history, origin and culture is like a tree without roots." – Marcus Garvey
Dallas County Commissioner John Wiley Price presented the Iota Mu Sigma Chapter of Phi Beta Sigma Fraternity Inc. with a resolution that Jan. 9 of this year was Phi Beta Sigma Fraternity Inc. Day. The resolution was in recognition of the fraternal order's 100th year.
Founded in 1914 at Howard University in Washington, D.C., according to the Sigma website http://www.phibetasigma1914.org, students A. Langston Taylor, Leonard Morse and Charles Brown, created the organization "that would truly exemplify the ideals of brotherhood, scholarship and service."
Zachary Thompson, director of Dallas County Health and Human Services, is a member of the IMS Chapter and was present at the pronouncement held at the commissioner's court. He discussed some of the tasks that IMS has undertaken in service to the local community.
"The fraternity has assisted Dallas County Health and Human Services in various projects such as providing A/C units to the elderly," he noted, "also providing HIV/AIDS awareness – they've provided informational booths – and the chapter members have been involved in a voter registration drive that has been through voter registration training."
The Sigma website indicates that the society currently involves more than 150,000 college-educated men in 650 chapters worldwide. Notable members include Congressman John Lewis, business leader Les Brown, baseball hall of famer Lou Brock and Rev. Al Sharpton.
As Thompson discussed the current doings of the group he also talked about the future direction of the Sigmas.
"They're definitely going to continue the service … 'culture for service and service for humanity' – which is our motto," Thompson said, "… and continue to provide service to Dallas County and the North Texas area."
Initiatives that the fraternity continues to support include The March of Dimes and the Project Hope sustainable health care program. Thompson also iterated that the Sigma Beta Club youth auxiliary would continue its emphasis on education during the next 100 years, as well as providing material support for Vogal Alcove, a local program to assist homeless children.
The recognition by the court of the fraternity's centennial was significant, Thompson said. He mentioned that the founders felt inclusiveness was a vital component to the organization.
"The way I feel is, the brotherhood, the involvement that we have in our community service projects, the connectivity we have with each other, it really is a living entity that focuses on service," he stated.
"So it makes me feel good to be involved in the Iota Mu Sigma chapter of Phi Beta Sigma with a group of men who are focused on service to everyone and definitely in this community," Thompson added. He pointed to the recent Christmas gift donations to Vogal Alcove as something that touched him personally as a Sigma.
"It felt good to know that here were, today, these kids who were going to be taken care of at this daycare; but that night they going to be going to a homeless shelter," he said. "It made us feel that we were contributing to helping them get through another day, brightening up their lives with Christmas gifts and with our financial contribution.
"It's what our founders wanted us to do, and that's to go out and find where the needs are and be supportive of programs in our community."