African hunt promotes equality for Brotherhood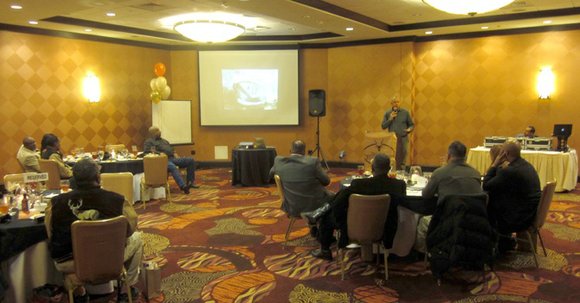 The Dallas Examiner
A communal campfire and the echoes of the great outdoors were replaced by a candle-lit steak dinner and tunes spun by a local DJ, as hunters swapped stories during the National Brotherhood of Hunters banquet held Jan. 11.
Hunters from across the United States, and one professional hunter from Tanzania, came together at the Crowne Plaza Hotel downtown where they shared the camaraderie that hunting generates within them.
The organization, started three years ago and made up of about 60 members, is open to anyone who wants to join. It is dedicated to promoting unity within African American hunters in the U.S. and around the globe, focusing especially on the participation of boys and young men. The group gathered to hear keynote speaker Arnold Payne, 41, president and CEO of the hunting outfitter Impala African Safaris. A citizen of Zimbabwe, Payne is currently putting together an African hunt for members of the Brotherhood.
A portion of his speech to the group was about the attractions and uniqueness of an African hunt. He also made clear in his address that, regardless of the continent or conditions, while the primal essence of hunting doesn't change, neither does bigotry.
As Payne spoke to the attendees in Bryan Ballroom B, he addressed an issue that he, a Black African, has confronted regarding racism in the international hunting world and how it has manifested itself in North Texas.
The CEO explained that in parts of Africa, the apartheid government model – used most notably in South Africa – was prevalent throughout the region since the days when the White minority held control of local countries. Despite governments based upon the separation of races dying out in the area, the traditions, institutions and mindset they established remain in place, Payne said.
Organizations such as the Zimbabwe Professional Hunting and Guides Association have kept Impala African Safaris and other Black African-owned hunting outfitters on the fringe of economic success via slander and aggressive tactics of exclusion. Black hunters are often given the choice of joining a guild such as the ZPHGA as long as they work for a White owner, or they are frozen out of the group altogether. This sets up a system of economic racism by creating a White monopoly encompassing much of the African hunting industry.
"Because of our policy to where we promote Black professional hunters – allowed them to ultimately make a living to support their families – we've been targeted," Payne said.
Dr. Gary Ford, president of the brotherhood, has witnessed firsthand what Payne discussed with the group.
"I've been on eight to 10 trips to Africa, hunting. When I first started going over there I never saw any Blacks that were a PH [professional hunter]," until he met Payne, he said. "I think what's happened is, unfortunately, the White Zimbabwe professional hunters have made a concerted effort to keep the Blacks out as professional hunters. And Arnold … he's not really concerned as to whether you're Black or White as long as you're able to do the job."