African hunt promotes equality for Brotherhood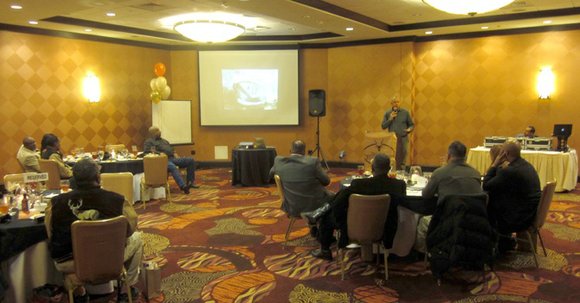 Andre Johnson, vice president of the brotherhood, expressed that African hunting outfitters often employ Black trackers and skinners; however, the workers are poorly paid and maltreated at times.
"…You have this White guy who guides you around, treating them like nothing, not giving them any water, making them eat the scraps of the animals that you shoot. It's really kind of a demeaning thing," he said.
"We've had a lot of Black professional hunters that have approached us, asked us to ultimately help them and give them jobs," Payne said. He alleged that many of these men have been turned away by other hunting outfitters due to their skin color.
Payne and others of the brotherhood said that when there are tremors of inequality in Southern Africa, the ripple effects are felt in North America. One of those ripples has created friction between Payne and the Dallas Safari Club. ZPHGA and similar institutions are endorsed by the club, Payne said.
He explained that the problem with the club hosting foreign organizations engaging in racial exclusion played into a couple of different issues closer to home. Namely, that young African Americans are less likely to be exposed to the hunting world where they are already underrepresented, and that the manipulated market unfairly skews the economic playing field against Blacks of any nationality when it comes to promoting their businesses.
"That's how the industry stays monopolized on two continents," he affirmed.
Every year the club hosts their convention in the city. Vendors from around the world set up booths to promote their wares which can be as varied as jewelry to binoculars to luxury hunting trips. Booth space at the Dallas Safari Club show is always scarce, but several members of the brotherhood said that they felt especially excluded.
Payne and others from the group noted that Black businesses at conventions like that of the club are rare and African Americans seem to be the forgotten demographic when it comes to marketing outdoors products. Brotherhood member Kevin Mitchell gave as an example the hunting and fishing shows on cable television.
"They'll show us buying Cadillacs; they'll show us buying a bottle of Crown Royal," he said, "… turn to an outdoor channel, and you will not find an African American on any of those shows." He pointed out that people of color are not sponsored by hunting or outdoor supply companies on such programs.
Mitchell talked hard numbers. He claimed that, of $148 billion spent yearly on sporting goods and services, 40 percent of that was spent by minorities.
"That is from hunting boots, to hunting jackets; from ammo to guns, for trips to Africa to just backdoor hunting …," he said as he ticked off an outdoorsman's dream shopping list. "Out of all that minority money we support none of that by manufacturing or supplying, and we have no access in media."
Why is that important? Economic opportunity and inclusion are at stake, Payne said.
"If you restrict the guys over here in the United States, the minorities," Payne said, as he added gravity to Mitchell's point, "and you don't even subject them to hunting shows, never take them out hunting. What do you do? You just leave then on the street. Let 'em go ahead and shoot each other on the street.