African hunt promotes equality for Brotherhood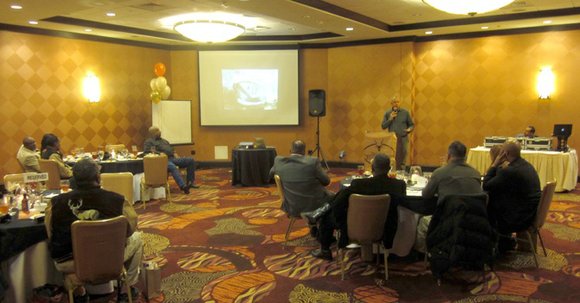 "Best believe, for the Dallas Safari Club to open doors – which they haven't – to local African American outfitters in this country … that's why you don't see any of them at the shows," Payne elaborated as he referred to the manipulation of the market, "it all plays together.
"In other words, they all endorse the organizations overseas such as the one in Zimbabwe that's all Whites, keep the Blacks out there. You keep the Blacks out over here because the guy that's ultimately saying 'Give me a boost,' he's saying 'give me a boost based on merit.'
"But no, they're going to ultimately put all kinds of requirements in place and then just keep the industry one-sided as opposed to let minorities in that are ultimate buying their products."
Payne said that he's had to jump through those hoops himself with the Dallas Safari Club. In late 2012 he was informed by the club that he had to be a member of one of the White-run associations in Africa to exhibit at their convention.
"To which I said, 'No, I don't need to be a member. That's not the law. The law is that our professional hunters need to be legally licensed, that's the law." Payne explained that his booth space was almost cancelled after that exchange.
"And then after we were excluded from the Dallas Safari Club [convention] for 2014 we asked for an answer and no reason was given," he said.
"They said they had no booth space available," Payne added.
So he took his argument to court.
"The reason we filed the lawsuit was to get some answers from them and see why this is happening," he said.
Payne filed a civil antitrust case, 13-2175 - Impala African Safaris LLC et al v. Dallas Safari Club Inc. et al, as a step toward putting hunting organizations in this country on notice that they will be held accountable for doing business with foreign groups that employ a tradition of race-based exclusion. The lawsuit was filed in mid-2013 against the club and a number of specific persons.
Payne said that some individuals "… ultimately used the Dallas Safari Club to go ahead and say 'Get this guy out of it and just take him out of the equation,'" since those named in the case, he claimed, hunt with White outfitters in Africa that want his company out of the larger marketplace.
When asked what he had heard from the Safari Club about the issues he'd raised, Payne answered "zero."
Ben F. Carter, executive director of Dallas Safari Club, responded to the controversy in an e-mail.
"DSC denies all the allegations and will continue to protect our members' interests against these baseless charges," he wrote. "The Plaintiffs, in their 90+ pages of the amended petition, have yet to state a provable fact that supports these absurd allegations."
Carter also referred The Dallas Examiner to their counsel of Munsch Hardt Kopf & Harr P.C. An e-mail requesting a statement about the case was sent to attorney Amy Rickers of the firm but a reply was not received in time to meet the deadline to this story.
However, according to the U.S. Government Printing Office website, http://www.gpo.gov/fdsys/pkg/USCOURTS-txnd-3_13-cv-02175, the case will be moving forward. In the United States District Court, Northern District of Texas, 5th Circuit Senior Judge A. Joe Fish refused to grant neither a default judgment in favor of Impala African Safaris nor a dismissal in favor of the Dallas Safari Club.
It's a battle that many from the local hunting fraternity think needs to be fought, both inside the courtroom and outside in the marketplace.
"If we don't do this, our young kids," Mitchell reiterated, "… will not have the opportunity to do some of the very things that we do on our own every single day." Payne agreed wholeheartedly.
"How do we find a way just to get, if not one kid … 10 kids, 20 kids … how do we get them involved in hunting so they can have themselves an outlet?"
Payne firmly believes the spirit of hunting will never change. Just as firmly, he feels the business of bigotry must.