Lest We Forget
Texas Negro school pushes to regain its name, legacy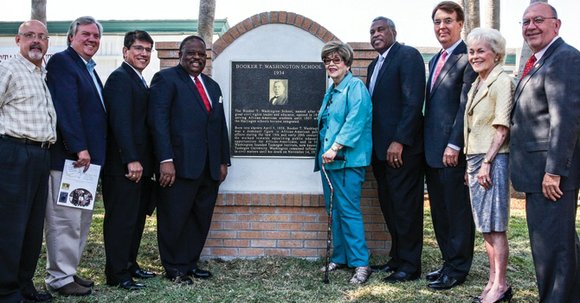 The Dallas Examiner
In May 2013, people from all around the country, from various walks of life, traveled to Harlingen, Texas, to witness the unveiling of an important part of their history and the history of Texas.
The ceremony took place at their former school, Booker T. Washington School for Negro children, built in 1934 on the corner of West Filmore and H Street. At the time, the school was a little three-room building. It had only three teachers. In each room was a teacher who taught multiple grades, up to the 8th grade. This was common in small towns prior to integration.
After finishing Washington, students were not allowed to go to the secondary schools in Harlingen. Those schools were for White and Hispanic students only. Blacks who wanted to attend high school had to move to San Antonio, Houston or Dallas. Those cities had high schools for Negroes and some students had to live with relatives in the area.
However, most did not graduate from high school and only received a 7th or 8th grade education.
The school closed in 1957 following Brown v. Education, a landmark case that decided segregating students based on the color of their skin was unconstitutional. And at some point, the name along with the story, faded away.
Lonnie Davis, who once attended Washington, now owns a profitable business, F&I Systems in Harlingen. It was his persistence that, after 25 years, pushed the Harlingen Independent School District Board of Trustees to recognize the school by placing a plaque in front of the building located on Filmore Street. The building is now used by the district for a Head Start Program.
The superintendent, mayor, school board members and county commissioner spoke at the ceremony that was attended by approximately 70 people, that included the former County Judge Moses Vela, teachers, business people along with former students and friends who came from near and far, by car, bus and plane to witness the unveiling of the plaque on the campus.
Behind the veil was the Booker T. Washington School plaque that read, "The Booker T. Washington School, named after the great civil rights leader and educator, opened in 1934, serving African-American students until 1957 when the Harlingen schools became integrated."
Underneath those words is a brief biography of the former slave, Booker T. Washington.
Following the ceremony, there was a large celebration under a big tent with testimonies, singing and plenty of barbeque.
As the celebration kicked off, Davis expressed his appreciation for the tribute to his former school. Dorothy Chandler and Betty Stevenson, who were also advocates of the nameplate, joined him on stage.
"I am so glad to see that we got our name back on the plaque," Stevenson stated as the audience cheered.
Attorney James C. Belt Jr., a former Washington student who practices law in Dallas, presented Davis with a personal plaque that read, "Thanks for giving us our name back."
Former students shared memories about challenges they experienced while going to Washington.