Lest We Forget
Texas Negro school pushes to regain its name, legacy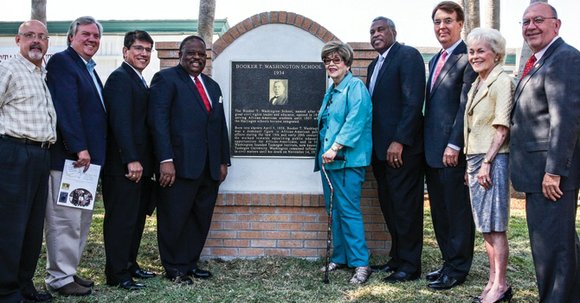 "I came to Harlingen in 1948. And I was a student of Booker T. Washington School. We didn't have no buses to bring us to school," Stevenson recalled. "We didn't have no cafeteria at school. Our cafeteria was a paper sack, and we were proud to get that.
"I use to tell my kids, 'If we went to school and learned something in a small little ol' place like Booker T. Washington, y'all should be able to go to a big school and learn."
Her testimony included accounts of children who lived across town and had to walk as far as eight miles – even on rainy and cold days – to get to the school every day because there were no school buses.
Others talked about the outdated textbooks they had. Students at the White schools in town had received them new. Many years later, they were passed down to the colored school.
"When I started Booker T. Washington School in 1950, we had books that were so old that the White students had their names," Belt gestured as if he were pointing from top to bottom of a books inside cover. "We had to get a piece of paper and put over their names because there were 10 or 12 spots – so that meant that the books were 10 or 12 years old – to write our names. I never saw a laboratory. I didn't know what it was."
When Washington was closed and the Black students were sent to the White schools, it wasn't easy for them, especially the male students. One student remarked that they looked forward to getting on the football field and hitting the White boys hard during practice, to get back at them for how they mistreated them in class.
Though Belt's sister had to move to Houston to attend high school before integration, Belt was one of the students who went on to Harlingen High School, a school originally designed for White students only.
"I tells folks all the time, 'The worst years of my life were 1956 to 1962," he exclaimed, pounding the podium with his fist. The crowd that cheered and applauded from time to time suddenly became completely silent, as the reality of the harshness of the situation was vividly illustrated through Belt's words. "So I appreciate the fact that we're getting our name back."
Belt, one of the first Blacks to graduate from the high school, was one of only four Black students to graduate that year. Many of the other Black students became discouraged and dropped out before graduation. But Belt stayed the course and became a star athlete. He led his team to the state track meet in Austin, but was unable to attend the school's athletic banquet because it was at the Harlingen Country Club and Blacks were not allowed in the club unless they were waiters, cooks or janitors.
Thelma Williams, a Fort Worth business owner also attended Washington to celebrate the occasion.