Lest We Forget
Texas Negro school pushes to regain its name, legacy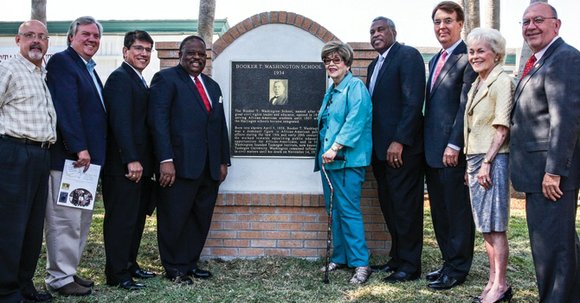 There were a few of the White students, who attended Harlingen when the school was first integrated, who also attended the ceremony.
One of their teachers was remembered fondly by most of the male students. They refer to him as Professor Carter. He was the first Black educated man that they met. He was their role model and inspired them to study and achieve in spite of the challenges they faced. When Carter came to Washington he was a recent graduate of Huston-Tillotson University, a historically Black college in Austin. After Washington closed, he left Harlingen and went on to get his Ph.D. and become a tenured professor at Prairie View A & M University. Carter died last year.
The former students feel a sense of accomplishment that the school they attended is now documented and the history is now recorded on its campus, letting the world know that it was there and it did exist.
"I'm hopeful that this kind of reunion will bring the community together to make folks aware of what things were really like and how good they are now," Belt concluded. "Some of our children don't even know that. We don't talk to them about that. So we have to let the children know, so our past will not be buried, as 'they' would like for it to be."