Monday Night Politics: Candidates spar for judicial seats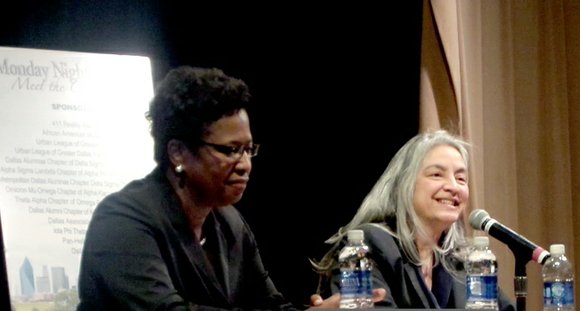 The Dallas Examiner
Candidates running for Dallas County judgeships expressed their qualifications and views before a crowded auditorium during Monday Night Politics – Meet the Candidates on Jan. 27 at the African American Museum in Fair Park. Hosted by The Dallas Examiner, the event was sponsored by various community organizations. Casey Thomas, a Dallas ISD schoolteacher and columnist for TDE, was the moderator.
Thomas began by detailing the forum's structure. Candidates were told that they would be asked to introduce themselves, answer questions from the moderator, and then from the audience, and give closing remarks.
Round One
There were four rounds. The first round featured two judges – Bonnie Lee Goldstein and Carlos Cortez, the incumbent – running for the 44th Civil District Court.
During their introductions, Goldstein explained that she was a practicing attorney for 23 years, during which she worked at a major law firm as a civil litigator and became a solo practitioner in 2003. For the past 10 years, she has worked as a municipal court judge for Dallas, Royse and Cockrell Hill cities.
A former precinct chair, Cortez was elected to the position in 2006 in a historic sweep that replaced Republicans in top county government seats. In terms of their qualifications, Goldstein said, "What qualifies me to be a judge is [that] currently I am a judge, and a judge is a judge," adding that she has the right experience, impartiality and temperament for the position.
However, Cortez disagreed, arguing that "being a municipal judge who handles traffic tickets or criminal warrants in Royse City" was no match to an experienced civil district judge. He reasoned municipal courts and civil courts handled different cases, and that Goldstein was inexperienced.
When asked what resources they would request from the county to assist them in their roles, Goldstein and Cortez agreed that having briefing attorneys to prepare case synopses before proceedings would be a luxury.
An audience member asked Goldstein why she decided to run. In her response, she refuted Cortez's claim that she was inexperienced. She accused him of referring only to her Dallas County record and stated that she had more experience than anyone who had ever run for the position.
Another audience member asked Cortez to list awards he had received. He said that he was granted a Medal of Friendship by the Mongolian government at the United Nations for a case he presented.
Both judges were asked to give their opinions regarding pro se litigants, people who advocate on their behalf in court without the aid of an attorney. Goldstein said that she regularly interacts with pro se litigants in municipal courts and believes they deserve fair treatment inside the courtroom.
She admitted, however, that pro se litigants might have a harder time defending their cases in civil courts rather than municipal courts, since civil courts follow a more formal process.
For Cortez, the presence of pre se litigants in court is an indication of what he described as faults with the legal profession. He voiced his frustration that most people wish not to become pro se litigants but do so because they either can't afford an attorney or have been wronged by an attorney.