Monday Night Politics: Candidates spar for judicial seats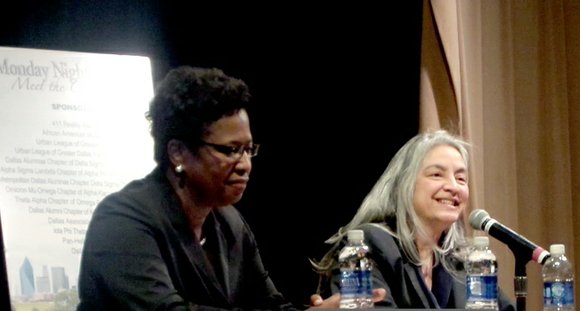 Although he clarified that he is impartial toward both parties in court, he said that from his observations, parties represented by an attorney usually win cases. This outcome, he claimed, does not always mean justice has been served.
Goldstein and Cortez replied to a question of how their appreciation for cultural competence factors into their judging.
"Lady justice wears a blindfold, and that means we're not supposed to allude to anything other than the law as it applies to the facts of the case. I think there is an importance to having a diverse background," Cortez said, pointing out that he is the only Hispanic civil district judge. "But I can't let that influence my decision because your name is Gomez or Diaz. What I can do, though, is understand some of the intricacies involved where culture does come into play."
Highlighting her fluency in Spanish and familiarity with Latino culture, Goldstein declared that having a great understanding of individuals from various backgrounds helps one accomplish justice. In his closing statement, Cortez urged audience members to vote for him due to his experience, and proposed to help Goldstein transition into the position if she wins. Goldstein also noted her experience in her closing statement, as well as her endorsements from U.S. Congresswoman Eddie Bernice Johnson, Sen. Royce West, and County Commissioners John Wiley Price, Dr. Elba Garcia, Dr. Theresa Daniel and The Dallas Morning News.
Round Two
Round two featured attorney Tammy Kemp and Judge Lena Levario, the incumbent, running for the 204th Criminal District Court. A native of West Texas, Levario introduced herself as a civil rights activist who grew up during a time and place where Jim Crow laws were being instituted against Mexican Americans.
Following law school, she said that she became a public defender, had a high win rate, and was recognized by then Gov. Ann Richards in 1993. She was appointed to the 204th Criminal District Court but lost her job when the county went Republican. Afterwards, she worked in private practice and was hired to investigate the "Fake Drug Scandal" that indicted police officers guilty of planting fake drugs on innocent people.
Kemp started her career as the assistant attorney general and the assistant secretary of state in Oklahoma, following law school. After moving to Dallas, she worked in misdemeanors, felonies and family violence.
She joined the District Attorney's Office in 2006 and was voted Deputy Chief of Family Violence by Craig Watkins, who is the district attorney for Dallas County. She is currently the administrative chief for Felony Division D.
Regarding their qualifications, Kemp affirmed that she didn't have an agenda and vocalized her opinion that discrepancies in laws should not be remedied in trial courts, implying Levario's actions. Levario retaliated that district judges are supposed to discern the validity of laws when constructing case decisions, and that the upper courts will decide whether those decisions are right or wrong.
In contrast to Kemp, Levario said that she had an agenda as judge to serve as a civil rights activist, bringing up Michelle Alexander's book, The New Jim Crow, which examines the mass incarceration of Black men in the U.S. Explaining that too many Black and Latino men are being incarcerated in the county, Levario professed that she was an activist against bad lawyers and giving felony convictions to low-level, first-time offenders and the mentally ill.