Monday Night Politics: Candidates spar for judicial seats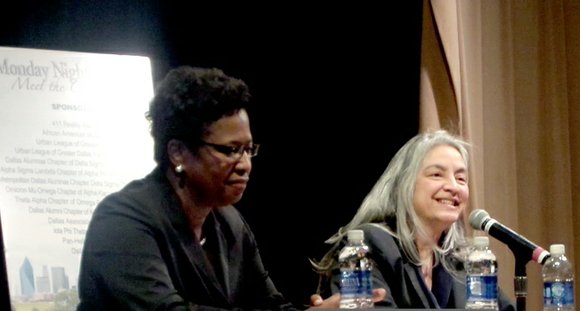 Describing the disabling effects of felony convictions, Levario said that if given the opportunity she would request that the county place an emphasis on rehabilitation and probation before conviction.
Accusing Levario of refusing to follow the law, Kemp cited examples of court cases Levario presided over that were overturned. Moreover, she asserted that the Court of Appeals informed Levario she didn't have the authority to declare a statute unconstitutional.
Kemp's other point was that Levario acted unlawfully in holding Watkins in contempt when he motioned to indict Al Hill III, a millionaire charged with mortgage fraud. Hill had accused Watkins of misconduct during the trial.
Watkins, who was present at the forum, referred to the case and asked Levario what she would do to audience members if they were in similar situations. Flustered, Levario complained that it was incredible for him to imply she was going to throw audience members in jail, and expressed her intention that the case was not to send Watkins to jail, only to require he pay a fine.
She noted that the cases Kemp cited were only a small percentage of the cases she had tried since 2007. She called Kemp a "life-long prosecutor," saying she had never been one, and admitted a judge from Amarillo declared she was wrong in holding Watkins in contempt.
Furthermore, Levario said she had nothing against Watkins, she had been a member of his transition team, had supported him before the commissioner's court on two occasions, and had written a positive opinion piece on him that was published in The Dallas Morning News.
When an audience member asked Levario how many of her rulings had been overturned, she wasn't able to provide a number, explaining that the Court of Appeals didn't have it on record. She said that the court only tracks state-challenged decisions.
An audience member asked Kemp to give her opinion on whether Levario's decision to hold Watkins in contempt was an accurate application of law. Kemp replied that the hearing should have never occurred and that the entire proceeding was inappropriate because Levario endeavored to remove Watkins' statutory authority to push the case forward. He had already received permission from the grand jury to advance the case.
Kemp disclosed that Levario repeatedly yelled during the trial that Hill had returned the fraudulent money. Kemp said that just because Hill lived in Highland Park, didn't mean he could receive a separate type of justice.
In her closing statement, Kemp spoke about Levario's earlier comments on rehabilitation and probation before conviction. She said that in dealing with young defendants, prosecutors never begin with felony convictions, but instead offer adjudications. She also referenced the number of exonerations Watkins has granted since he was elected.
Parenting defendants, Kemp said, was not Levario's responsibility. Instead, she argued that they had capable representation and advocacy in their attorneys. She concluded with why voters should vote for her.
"If you want somebody who makes up the rules as they go along, Judge Levario is your person. But if you want somebody who is going to treat everyone fairly – [whether they're] black, brown, yellow, [or] red – then I'm the person for you. The code of criminal procedure and the penal code is no respecter of persons, and all anyone ever wants is a fair shake," Kemp said.