Dallas leaders discuss economics, education
Diane Xavier | 2/17/2014, 10:10 a.m. | Updated on 2/17/2014, 10:10 a.m.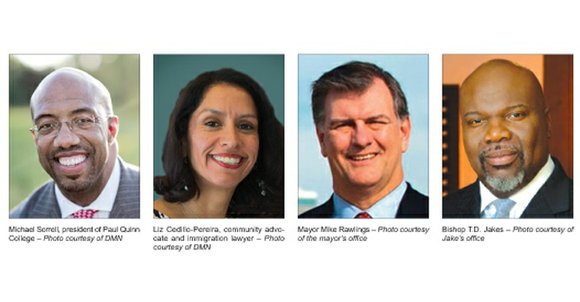 The Dallas Examiner
Focused on helping the city move forward and becoming one of the more vibrant, stronger, smarter and highly developed cities in the nation, community leaders joined forces for a forum called "Come Together: Dallas Leaders on Economic Development, Education and Opportunity."
Panelists such as Bishop T.D. Jakes of the Potters House, Dallas Mayor Mike Rawlings, Paul Quinn College President Michael Sorrell and immigration lawyer Liz Cedillo-Pereira participated in the forum which was moderated by Sharon Grigsby, deputy managing editor of The Dallas Morning News.
The event was hosted by DMN on Feb. 4 at the Dallas City Performance Hall.
"We just can't hope for the city to get better but we must have better expectations of our city to help it move forward," Rawlings said.
Jakes said what makes Dallas unique is its diversity.
"Dallas has a rich ethnic diversity, a great cultural diversity, and a diverse economic and socio-economic diversity," Jakes said. "There are so many areas of our city that are doing well and also areas that are not doing well. I think if we have something where we can point to and say this is a project, a goal, a process that we can all bring our expertise to and bring our business leaders, our churches, and other organizations to come together and work on a project, then we can help our city heal."
Pereira, a Dallas native who graduated from North Dallas High School, said she was honored to be selected on the panel.
"We are all called to lead and to be a part of our community," she said. "We are all called to contribute in our own way. We are one of the most significant cities in the nation as to where we are demographically. Our number one resource is our diversity and we must hone in on it. As someone who has the opportunity of representing immigrants from all nations and all continents, I feel like they are our most valuable resource when it comes to the economy. It shows how hard we must work to make a buck."
Sorrell thanked media host for addressing this issue on economic development for the city.
"This isn't what papers normally do," Sorrell said. "They don't engage communities on difficult topics but rather report on difficult topics. To actually reach in and decide to be an agent of change is extraordinary. What we need to do is take what we have and expand it. If we need a grocery store in our community, let's get one, if we need economic development then let's get our students to become entrepreneurs so that they can help serve their communities. We believe in the city of Dallas and in this project."
Jakes said in order to help a city grow you must meet the need of its supply and demand.
"The real premise of the Gospel is to help people whether someone has gone through incarceration or emotional trauma with the resources we have," Jakes said. "Sometimes if we can't fix everything then we refuse to fix anything. If every citizen in Dallas would just go out of their way to supply some demand, whether it is a coat for someone, a ride to school, a tutorial session for somebody who is struggling in school, then we could really make a difference in this city just by working together. I am a person of action and really like to see things get done and I think that when you start talking about hope and expectations and wait so long for something to change, it brings toxicity to the community. We have the responsibility as a people to leave this world a better place for the next generation. We have the responsibility to help our children have a better life."