Blacks still victimized by 'stand your ground'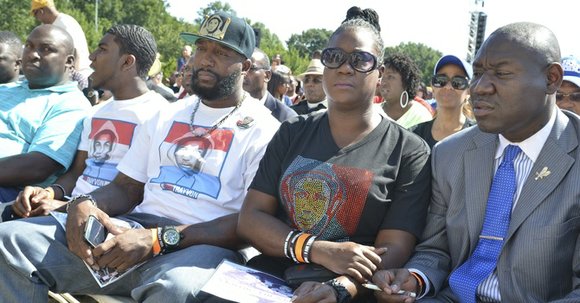 WASHINGTON (NNPA ) – Two years ago, 14-year-old Trayvon Martin was returning from a trip from a nearby 7-Eleven store in Sanford, Fla., to purchase a bag of Skittles and a can of Arizona tea when he was confronted by George Zimmerman, a neighborhood watchman.
Instead of making it back to the house to watch the tip-off of an NBA All-Star game, the unarmed Black teenager was fatally shot in the heart by Zimmerman, who was later acquitted of first-degree murder charges.
The not guilty verdict triggered protests across the country and calls for a review of Florida's controversial "stand your ground" law that justifies the use of deadly force by anyone who believes their action was necessary to prevent "imminent death or great bodily harm" to them. The killer gets a free pass even if the person on the receiving end of a deadly bullet is unarmed. Even if that person is not breaking any laws. Even if that person happens to be a frightened Black teenager. Especially if that person is a frightened Black teenager.
Wednesday will mark the two-year anniversary of Martin's death. Two years after the fatal slaying, Florida and more than 20 other states still have "stand your ground" statutes in place, which have led to other incidents with racial overtones.
Standing on Florida's "stand your ground" law, Zimmerman, who identified himself as Hispanic, was acquitted July 13, 2013, of first-degree murder.
On Saturday, six months later, a jury failed to reach a first-degree murder verdict against Michael Dunn, a White computer programmer, in connection with the death of Jordan Davis, a Black teenager, at a Jacksonville, Fla., convenience store. Upset over the loud music coming from a vehicle occupied by 17-year-old Davis and his friends – whom Dunn instantly characterized as "gangsters" and "thugs" – an enraged Dunn fired 10 shots into their Dodge Durango SUV. He continued to shoot into the vehicle even after it sped away, according to witnesses.
A jury composed of four White males, four White females, two Black females, a Hispanic male and an Asian female found Dunn guilty on three attempted second-degree murder charges, which could land him in jail for at least 60 years. However, a verdict could not be reached on first-degree murder charges, the most serious offense.
Al Sharpton called for the civil rights community to redouble its efforts in Florida, a state he described as "ground zero" for the battle against "stand your ground" laws. "From Trayvon Martin to Jordan Davis enough is enough," Sharpton stated.
But the "stand your ground" law in Florida is not enough when the assailant is Black.
For example, in 2010, a year before Martin was killed by Zimmerman, Michael Giles, who was on active duty with the U.S. Air Force, and some friends were attending a party at a local nightclub in Tallahassee when a fight broke out between Florida A&M University fraternities.
Giles, who was licensed to carry a concealed weapon, went to his vehicle and retrieved a pistol and stuck it in his pants pocket. Giles testified – and other witnesses confirmed – that he was punched in the face. Lying on the floor and fearing for his life, Giles drew his gun and shot his alleged assailant one time in the leg; two others were injured by stray bullet fragments. For that, Giles, who had no criminal record, received a 25-year sentence for attempted murder, which he is still serving.