Monday Night Politics: Campaigning to manage the scales of justice
Diane Xavier | 2/24/2014, 6:01 a.m. | Updated on 2/24/2014, 4:43 p.m.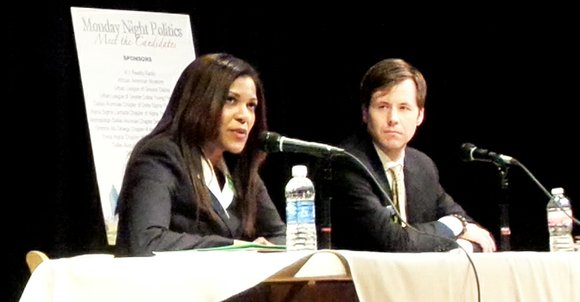 The Dallas Examiner
On Feb. 10, Monday Night Politics – Meet the Candidates featured candidates running for Judicial Courts 301, 304 and 330, as well as Criminal Courts 4 and 5.
In Judicial Court 301, five candidates are competing for the seat that tries cases concerning family law. Candidates include Craig Bonham, David Hanschen, George White, Mary Brown and Lawrence Praeger.
Bonham, an assistant district attorney with the Dallas County District Attorney's office, talked about his qualifications for judge. Currently, he handles child abuse and neglect cases for Dallas County's DA's office and is also a mediator.
"People will tell you that I am fair but also tough," Bonham said. "I am running on three facts. Those values are excellence, integrity and respect. You start with excellence and integrity at the top and those values will trickle down and I will demand that my staff treats everyone with respect and that all our decisions are made with those values in mind. Also, what sets me apart is my community service. I have been involved with many career days at local high schools and have spoken at schools such as Roosevelt High School, Sunset High School, North Dallas High School and Lincoln High School. As an African American male, I think it is very important and I take it very seriously on being a role model for the community."
Lawrence Praeger, another candidate for Court 301, said this court is a specialized court.
"I am a board certified family law specialist since 1992," Praeger said. "I think the most important qualification I may have is that over the past 25 years, I have represented citizens of all different socioeconomic backgrounds. I have represented people with a lot of money and people who have no money and the district court unlike the associate judges court deals with the division of property and I have been involved all sorts of property division cases. I also serve as mentor to young lawyers who are establishing their practice."
Dan Hanschen, another candidate for the 301 District Court, is also a former judge of the 254th District Court. He said he has worked in family law for more than 20 years.
"It's about my passion to help people through divorce and construct situations that really solve the problems for children. It is my burning passion," he said. "I want to do what I did before. A woman came up to me at a dining room in Davis Avenue about three weeks ago and told me that I saved her daughter's life. Her daughters' case was in my court and she said I put in the right protective order. Also, a woman came up to me at St. Paul's Church in Harris Street and said she really didn't like the order I gave making her and the other grandmother joint custodians of a child whose both parents were in prison but she said it worked out perfectly over the last six years and they have raised the child together. Those sorts of feedback from the community mean more to me than anything else."