Monday Night Politics: Campaigning to manage the scales of justice
Diane Xavier | 2/24/2014, 6:01 a.m. | Updated on 2/24/2014, 4:43 p.m.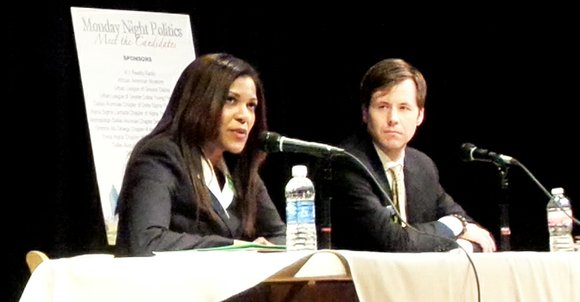 Criminal Court 4 was represented next at the forum with Nancy Mulder and Remeko Edwards challenging each other.
Mulder said she is not a politician but a public servant.
"I have been practicing criminal law for almost 20 years," Mulder said. "I started at the Dallas County DA's office where I was a prosecutor for 12 years and stayed there and ended up being a chief felony prosecutor. I trained other prosecutors and taught prosecutors. I also served in the family violence division, child abuse and public integrity division. I have prosecuted everything up and through capital murder cases. When I left the DA's office, I thought I knew everything there was about criminal law and then I became a defense attorney and it has been a tremendous learning experience for the last eight years. I have defended everything up to capital murder cases where the state was seeking the death penalty. I have almost 30 years in the community helping them out. I have helped with battered women's shelters and have recently been a precinct chair for Dallas County Democrats. I have walked miles in phone banks for President Obama."
Edwards thanked the audience for coming out to Monday Night Politics.
"Your presence just shows how Dallas County is concerned with what's going on in the community and that is the reason I am running for this office," Edwards said. "I have learned so much from these forums and meeting people who are concerned with the community. I am originally from Selma, Ala. As a little girl, I always said that I wanted to be a judge. I did not know how that was going to happen or what I needed to do to make that happen but through the process, I learned. I have worked for 12 years in Dallas County and started as a detention officer and probation officer and then went to law school at Thurgood Marshall Law School in Houston. In law school, I was a single mother of one at the time and my third year of law school I had my second son. I was privileged and by God's grace was able to finish at Thurgood and continue as a parent. I had to juggle both my motherhood as well as being a full-time student. Currently, I have my own defense practice."
Edwards said she is running for office because she cares and she is concerned about many issues in the community.
"I am concerned about our kids," Edwards said. "I have a 16-year-old and a 9-year-old. I not only practice criminal law but I practice family law and juvenile law. I know the process. I understand what it means to be detained and to be incarcerated when you go inside a detention center or the prison and you can't get out because I used to work in there and I couldn't get out until I got off from work. I understand what it means to be on probation and you need rehabilitation. As a probation officer, I went into the schools, I went into the homes, I had people that were on probation that were being supervised in the community as well as in placement centers. So I had to be that person in between and educate everybody about the process. That is where we are lacking are in our community is what the criminal process is all about. I am the one that has experience from the bottom to the top."