STEMulating the Mind
Dallas ISD encourages, informs students about STEM careers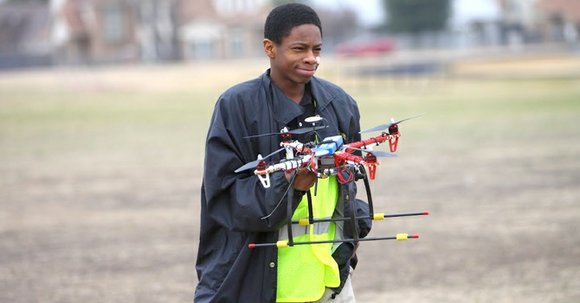 The Dallas Examiner
Whether conquering new maps on the latest video game, performing less invasive robotic surgeries, configuring risk factors, or exploring the solar system, STEM-related fields touch every aspect of today's world. STEM is an acronym for science, technology, engineering and math.
Research has shown that STEM careers will be in higher demand in the future. Even jobs that aren't exclusively STEM related will require employees to have some STEM knowledge due to the advancement of technology.
On Feb. 1, over 1,500 Dallas ISD students participated in science, technology, engineering and math activities at the district's inaugural STEM Day at Skyline High School. The purpose of the event was to help encourage students to pursue STEM careers.
The district hosts science and engineering fairs every year. This year, the district decided to combine the usual fairs and create STEM Day. It plans to make this an annual event.
The day began with an opening ceremony that included a ribbon cutting and remarks by Torrence Robinson, senior director of Global Community Affairs for the Fluor Corporation and president of the Fluor Foundation. Fluor is a Fortune 500 company that delivers engineering, construction, maintenance, procurement and management to diverse clients and industries around the world.
Robinson informed students of three reasons why they should pursue STEM careers. His first reason was that a STEM career is exciting.
"Now think about it; once you graduate from high school, you're going to be working for 40 to 45 years. That's a long period of time. You want a career that's challenging, that's dynamic, that when you wake up on Monday morning, you are happy to go to work," Robinson said.
His second reason was that a STEM career is dynamic, explaining that technology has drastically changed within the last 10 years. His third reason was that a STEM career is prestigious and pays well. However, he added that pursing a STEM career comes with challenges.
"Anything in life that is worth having, there's a process that you have to go through. I call it the blood, sweat and tears index, because it's hard, it's challenging, but it's worth it. It's time consuming. You're going to have to put forth the effort. You're going to have to put down the Xbox and PlayStation 4 to work on your homework. You're going to have to put your phone on mute, or turn it off, and stop texting, so you can finish your experiment. These are types of decisions you're going to have to make constantly," Robinson said.
The district's STEM department, teachers, vendors, university representatives and volunteers orchestrated the event. Parents had to register their kids to attend.
Students could choose from 60 different STEM activities to participate in. Some of the activities included TAME Trailblazer, Paintball Chemistry, How Do Probes Go to Space, and How Big Is Your Heart.
Hosted by the Texas Alliance for Minorities in Engineering, TAME Trailblazer gave students the opportunity to board a 40-foot trailer stocked with hands-on exhibits. One exhibit featured a static electric ball that causes hair to stand on a person's head when touching it. In How Do Probes Get to Space, students studied Newton's third law – which asserts that everything that has an action has a reaction – by mimicking space shuttle thrusts.