STEMulating the Mind
Dallas ISD encourages, informs students about STEM careers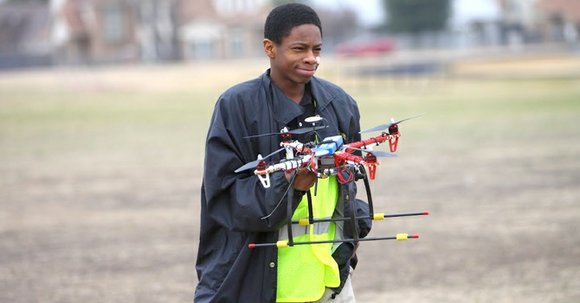 Students blew up balloons, leaving them untied, and attached them to strings strung across a classroom ceiling. They pushed balloons of various sizes and shapes to determine how much air was needed to propel them.
Toyia Terry, a math coach for the district, supervised the activity. She explained why STEM Day was important.
"It gets students out of the regular monotony of the classroom and lets them see science in action. It lets them know that science is real life and not just a class," Terry said.
Jenny Christian, a supervisor for the district's STEM department, oversaw Paintball Chemistry. She described how the activity incorporated fun and science.
"It's a real-life understanding of a topic that all kids love. Everyone loves to play paintball, but they really don't know what they're made out of or the chemistry behind them," Christian said.
Students learned that paintballs have gelatin coverings made from pigskin. Christian explained to them that gelatin coverings are also found in medication capsules.
Furthermore, they observed how absorbent, semi-permeable gelatin coverings swell when submerged in water. Students also learned that paintballs have an inside coating made from polymers, which are molecule of repeating units.
They touched other polymers, such as the super-absorbent ones found in diapers. At the end of the activity, they were allowed to throw paintballs at canvasses. Christian commented that the canvasses would be hung at several school campuses to remind students of the relationship between paintballs and polymers.
How Big Is Your Heart informed students that the sizes of their hearts are approximately the sizes of their fists. Students also learned that the heart beats over 100,000 times in one day, and that the heart helps clean blood.
Other activities included Extracting DNA, Roller Coasters!, Feel Like an Astronaut, Fun with Fossils, Movie Stunt Choreography, Robot Olympics, Animal Science and Firefighting. Students also participated in science and math competitions.
For the math competition, a math test for each grade level was posted online. Select students from different schools were allowed to take the tests. Those with the highest scores won.
The science competition was like the district's usual science fair. Students from different schools created science projects, which were judged at the schools. First, second and third place were awarded to the winners. The winners' projects were showcased at the event.
Amar Neal, a sixth grader at Greiner Middle School, said that he wanted to attend STEM Day because he had fun participating in Math Olympiad, a math problem solving contest, at his school last year. He has aspirations of becoming a performer, but added he hopes to do a little bit of everything. He shared why he felt students should be involved in STEM.
"If you want to do anything, you have to know how to read, do problems, solve things and think. It's important to know science and math no matter what you do," Neal said.
Monae Garrett, a ninth grader at Mesquite High School, expressed her reasons.
"You need math and science. Math helps you with money, and science is just a part of life." She hopes to become a basketball player and described how STEM will aid her in this pursuit. "Science can help me with my heart rate, and math can help me with my speed."