Dallas ISD earns high grades on National Report Card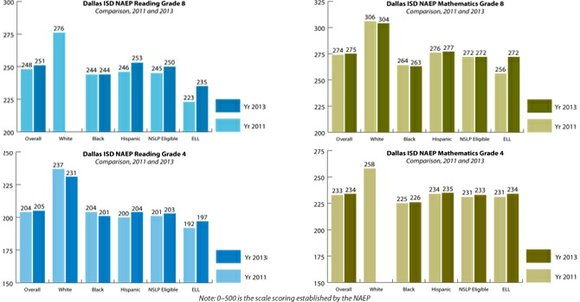 In math, the achievement gap for eighth-grade Hispanic students narrowed by five points and the one for African Americans narrowed by three points.
Dallas ISD students who qualify for free and reduced price meals also outscored or matched their peers in several districts in math and reading in fourth and eighth grades. Of the 21 participating districts, Dallas ISD has the third or fourth highest percentage of students who are eligible to receive free and reduced price meals, depending on the assessment sampling.
NAEP results showed a slight decrease that may not be statistically significant for White and African American students who took the eighth-grade math assessments when compared to 2011 results. White students also registered a loss of six points in fourth-grade reading when comparing the current results with 2011. African American students registered a three-point decline in fourth-grade reading when compared to their performance in 2011.
"While the results of the NAEP also revealed that there are definitely areas for improvement, Dallas ISD teachers deserve recognition," Miles said. "The effective teaching that is taking place in classrooms and the renewed focus on instruction are yielding positive results. We will continue to study these and other assessment results to implement reforms that will increase achievement levels for all our students."