Eva McMillan: A lifetime of activism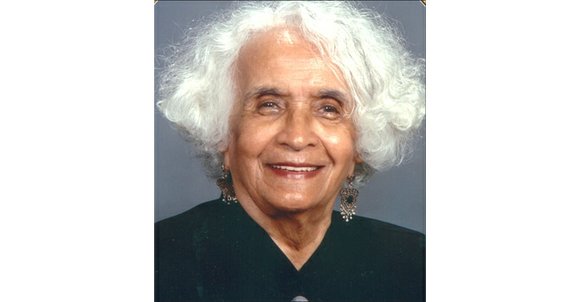 The Dallas Examiner
Eva Katharine Partee McMillan, also known to her family and friends as "Mama Mack," was awarded the 2013 Lifetime Achievement Award last month by the Dallas Peace Center. The organization said she has lived a life of conscience and purpose spanning nine decades of peace and justice activism.
John Fullinwider, president of the Dallas Peace Center board of directors, nominated Mama Mack for the prestigious honor.
"Mama Mack may be the oldest person to receive a Dallas Peace Center Award," he said. "At 92, Eva McMillan continues to be an inspiration to many community organizers and activists in Dallas. Mama Mack, our own indomitable Mother Courage, has endured and prevailed in the crucible of American history, and who leaves a legacy of struggle and hope for all those who have the heart and will to claim it."
Born Eva Katharine Partee, she was the seventh of eight children in a farming family in Bradford, Tenn. Her family moved to Texas – to the White Rock Community in what is now far North Dallas – when she was eight years old.
Her family joined Christian Chapel Christian Methodist Episcopal Church. Little Eva attended Addison Negro School located on Celestral Road and Armstrong School located on Forest Lane. In 1938, she graduated from Vickery High School, located on Coit Road.
She became an activist as a teenager when she began walking door-to-door in Dallas' Freedman's Town, encouraging her neighbors to vote. On Election Day, she collected poll taxes, $1.75 per voter at the time. She spent a quarter-century working on voter education drives in Dallas and Mississippi.
"The pastor did not have to tell us to be politically active. Back then, when something happened to one of us, it happened to all of us," she recently recalled.
In 1941, she married Rev. M.E. McMillan, an early pastor of St. Luke Methodist Church in Dallas (Now St. Luke Community United Methodist Church). Together they had four children: Karen, Ernest, Jacqueline and Kathy.
As a young pastor's wife and mother, Eva began to work in the Civil Rights Movement. While most adults were hesitant to get involved in the movement, she stated that was not the case for the parishioners at St. Luke.
"No, they encouraged me," she said with a laugh. "In fact our church wanted everyone to be involved."
Soon Mama Mack joined her brother, A.C Partee, in the Dallas Progressive Voters League. They worked hard canvassing the community, clerking at the polls, registering voters, helping people pay their poll tax. She also volunteered at her children's school, becoming the president of the J.W. Ray PTA during the 1950s.
During the 1960s, she became one of Dallas's most effective community organizers. Along with other activists, Mama Mack co-founded Black Women's United Front and the group's food co-op; People United for Justice for Prisoners; the Dallas Anti-Apartheid Coalition; the Anti-Death Penalty Coalition; and the National Anti-Klan Network in Norfolk, Va. She contributed her time and skills to many other human rights movements, locally and nationally. She later joined Aldersgate Methodist Church, led by the Rev. Marshall Hodge, because this church was doing more community activism.