Big voting changes coming to the South in 2014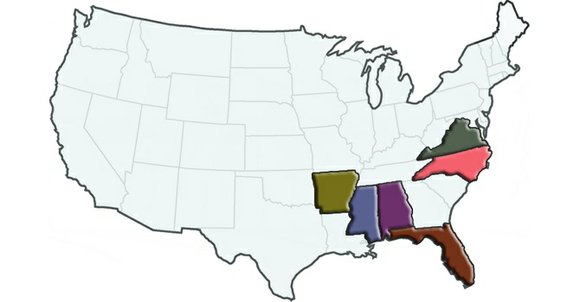 (NNPA) – Legal analyst Jeffrey Toobin blogged in The New Yorker recently that voting rights cases will be one of the top seven legal stories of 2014.
"After the Supreme Court gutted the Voting Rights Act in the Shelby County case, several Republican-dominated states immediately tightened their laws to make it harder to voter," he wrote.
While legal decisions on voting rights are pending right now in Northern states including Wisconsin and Pennsylvania, many of the big stories will come from the South. With new election rules in place, next year will prove pivotal for observing how these changes might disrupt voting practices, especially for the upcoming mid-term elections.
Here is a round-up of Southern states where voters face major shakeups:
North Carolina
The section of North Carolina's far-reaching new elections law that has gotten the most attention is the requirement for certain forms of photo identification to vote, but that provision won't kick in until 2016 – unless ongoing litigation overturns it. However, the law makes other election changes that voters should be aware of.
One is a change in how provisional ballots will or won't be counted. Since 2007, if you happened to be in the wrong precinct when attempting to vote – what's been dubbed "right church/wrong pew" voting – you could cast a provisional ballot and prove later that you are registered and eligible to vote. But as of 2014, those who show up at the wrong precinct will not be allowed to vote.
Also changing in 2014 is the number of days for early voting – 10, down from the 17 that were available before. The new law also eliminates same-day voter registration. North Carolina is currently tied up in litigation around those two changes, along with the voter ID requirement, because of possible racially discriminatory effects.
And the changes don't stop there: North Carolina voters will no longer have the option to vote for all the candidates of a preferred party – straight-ticket voting – in one action. There will be more partisan poll observers allowed in precincts, even if not from the same neighborhood. And it will be easier for any voter to challenge another's eligibility, which can slow down if not halt challenged voters' access to their ballots.
It's for these reasons that North Carolina's voting law has been called the "most restrictive" in the nation.
Alabama
Alabama was among the first states to adopt a voter ID law, passing one in 2003 and then in 2011 tightening restrictions around what kind of ID could be used. The state delayed the effective date of the law until 2014, bypassing all of the legal challenges that have confronted and stymied other states that tried to implement voter ID earlier, such as Texas and South Carolina.
Like those two states, Alabama once had to submit its election laws to the federal government for approval under Section Five of the Voting Rights Act because of its history of racial discrimination at the polls. But a U.S. Supreme Court decision this summer invalidated the coverage formula for Section Five and released those states and others across the South from this obligation.