Big voting changes coming to the South in 2014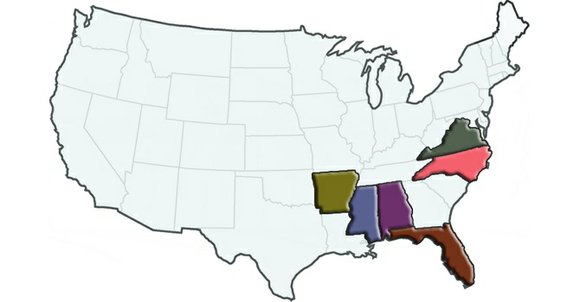 That Supreme Court ruling resulted from a challenge to Section Five by Alabama's own Shelby County – a chronic violator of voting rights protections.
Arkansas
In 2013, the GOP-dominated Arkansas legislature passed a voter ID law that was vetoed by Democratic Gov. Mike Beebe but then restored by lawmakers. As of Jan. 1, Arkansas voters will need a driver's license, concealed carry license, a U.S. passport, state or federal government employee ID, U.S. military ID, college ID card or public assistance ID card in order to vote.
Each of the state's 75 counties now has machines that will issue free photo IDs to those without one so that they can vote. But the problem with free photo IDs, as voters learned in Texas and Pennsylvania, is that they don't always meet the needs of voters. That's because if citizens don't have the underlying documents needed like a birth certificate or Social Security card, then they can't get the ID.
The state's ACLU is watching the voter ID rollout and says it may challenge it.
Florida
There's rarely a year that goes by that doesn't involve voter controversies in Florida. In 2012, it became the poster child for states with the longest waiting times for voters. Those delays were attributed to the cuts Florida's legislature made to early voting, which North Carolina appears to have mimicked. Florida lawmakers learned their lesson and restored the full early-voting period.
Then in November 2013, Florida Secretary of State Ken Detzner issued a directive stating that voters had to deliver or mail absentee ballots directly to their county's supervisor of elections. Previously, voters could drop off absentee ballots at other sites like early voting polling locations.
One elections official has said she will defy the directive out of concern for its effect on an upcoming January primary election: Pinellas County election supervisor Deborah Clark said her voters are accustomed to using the two library branches and three tax collector offices for dropping off ballots, and she will allow them to do so next year.
Detzner said he won't stand in Clark's way for that election, the Tampa Bay Times reported. But he has not changed his directive, which means it's still on for the rest of the state.
Mississippi
A photo voter ID law was passed in Mississippi through ballot referendum in 2012, but its implementation was slowed by a pending federal review when Voting Rights Act Section Five oversight was still in place. Immediately after the Supreme Court stripped that oversight away, Mississippi's secretary of State announced the state was moving forward with the law.
It's now scheduled to kick-in on June 2014, despite data showing that African Americans in the state are more likely to lack photo ID than White voters. But like North Carolina, Mississippi has a Democratic attorney general who is not in full support of the voter ID law, which could help in terms of oversight.
But the new law probably won't change the fact that Mississippi perennially comes in dead last among all states in voter participation, according to the Pew Center on the States' Election Performance Index.