Mandela Movie Mania
Six movies chronical the life, love and work of a legend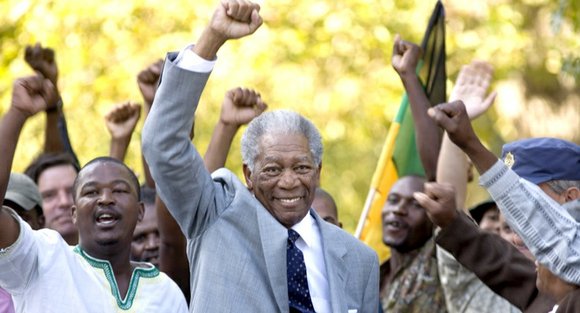 The Dallas Examiner
Last month, iconic figure Nelson Mandela was laid to rest at the age of 95 and was remembered as a champion for human rights. After being imprisoned for 27 years, and becoming South Africa's first Black president, he is best known for his arduous work to end the country's apartheid system. Within the past 18 years, his life has been portrayed in a number of films.
Mandela: Long Walk to Freedom (2013)
The latest movie, Mandela: Long Walk to Freedom, provides a general overview of Mandela's life. Justin Chadwick directed the film, and Idris Ebla, Naomie Harris and Terry Pheto starred in it.
Mandela, a member of the Madiba clan, is born in Mvezo, Transkei, South Africa, in 1918. When he becomes a young man, he leaves the village looking for a different life. In 1941, he arrives in Johannesburg, where he works in the coal mines as a security officer.
He sees firsthand the injustices of apartheid. A White minority rules over the Black majority. Blacks are denied the right to vote, and have no freedom of movement, no land rights, and no equitable opportunity to employment, housing or education.
After meeting Walter Sisulu, a Black real estate agent, Mandela decides to study law to become a lawyer. The film shows how Mandela soon becomes increasingly interested in politics and the African National Congress, South Africa's oldest Black political party opposing White rule.
Later, he and Oliver Tambo, a close friend, open the first African law firm in the country. One scene portrays Mandela as a trial lawyer defending Black people in court, and upsetting White prosecutors and magistrates for not being subservient.
He assists the ANC in developing the Freedom Charter, which calls for a democratic South Africa, in which all South Africans share power and have equal rights. Mandela's heavy involvement in politics puts a strain on his first marriage to Evelyn Mase, and the movie highlights his struggle with infidelity. He divorces Mase and marries Winnie Madikizela.
Various scenes demonstrate Blacks protesting and the government retaliating with violence. Mandela gives an underground interview during which he states that the ANC has decided to take up arms and end their peaceful and nonviolent resistance. His explanation is that the government continuously launches savage attacks on unarmed and defenseless people and refuses to negotiate with the ANC.
He leaves the country to get military training and funds for arms, and upon his return, he is arrested. Mandela goes to court and is sentenced to five years in prison. While he is in prison, some ANC leaders are arrested and found with guns, bombs and documents that incriminate Mandela.
Less than a year into his sentence, he is back in court with the ANC leaders, one being Sisulu. During this point in the movie, Elba delivers Mandela's famous speech, in which Mandela says that he is willing to die for democracy and equal opportunity. Mandela and the ANC leaders are found guilty of treason in 1964 and sentenced to life in prison.