Mandela Movie Mania
Six movies chronical the life, love and work of a legend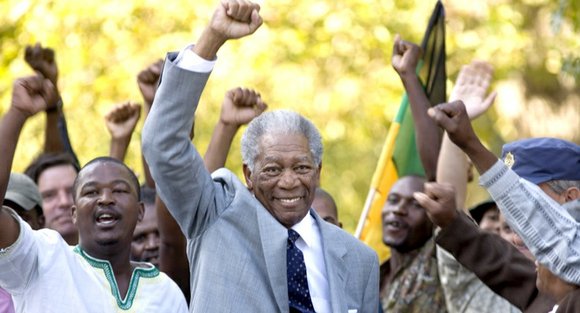 Next, they are flown to the Robben Island prison, where they endure much suffering. Prisoners have to do hard labor and can only receive and write a letter once every six months. The letters can make no references to other prisoners, politics or prison conditions. Letters that contain these things are censored.
The movie shows that on a few occasions, Madikizela-Mandela is allowed to visit Mandela. When they meet, they are separated by a glass partition and have to speak to each other using phones. Guards instruct them to speak in English and only about family matters.
However, they converse in their tribal language and discuss politics. Thus, they are forced to end their conversations early.
Eighteen years later, Mandela is transferred to the Pollsmoor Prison. Here, he is able to meet Madikizela-Mandela face-to-face, and he also starts communicating with the government. An international "Free Mandela" campaign takes root and world leaders support his release.
In 1988, Mandela is moved to the Victor Verster Prison, where he is housed in the comfort of a warder's house. Following a series of conversations between Mandela and the government, he is released from prison in 1990. The film ends with Mandela separating from Madikizela-Mandela in 1992 and becoming the first democratically elected president of South Africa in 1994.
Before Mandela: Long Walk to Freedom, five other movies about Mandela's life were produced following Mandela's release. All five films included his major life events, but each one targeted a different aspect of his story.
Winnie Mandela (2011)
Jennifer Hudson and Terrance Howard starred in Winnie Mandela, which was directed by Darrell Roodt. The movie shed light on Mandela's life from Madikizela-Mandela's perspective.
Madikizela-Mandela is born in a village as the sixth girl to her mother and father. She is educated by her father, the village's schoolteacher. In 1953, she leaves the village to go to a desegregated school, where young women study to become social workers. She and her friends attend one of Mandela's speeches, and she becomes fond of him.
One day, Mandela is driving with Tambo, and he sees Madikizela-Mandela standing at a bus stop. He stops and asks if she needs a ride, but she says no. Later, Tambo invites her to dinner.
Mandela shows up and asks Madikizela-Mandela on a date. She resists, but gives in. They date and then marry. After they move into their first home in the Black township, Soweto, the police constantly raid their home.
Following Mandela's imprisonment, Madikizela-Mandela attempts to further the movement. She is eventually arrested and taken to prison, where she is tortured and becomes delusional.
After spending 16 months in solitary confinement, she is released. When she rejoins the movement, the government exiles her to Brandfort. After almost a decade, she is allowed to return to her home.
Late one night, an intruder threatens Madikizela-Mandela. Her neighbor, a coach, rescues her and assigns his football team as her bodyguards.
Mandela disagrees with this, stating that the boys are thugs. When she meets Mandela in prison, he urges her to let the team go. However, she ignores his request. Mandela also informs her that he has heard rumors that she is having an affair with the coach. But she denounces the rumors, adding that he has no right to ask her about such things.