Mandela Movie Mania
Six movies chronical the life, love and work of a legend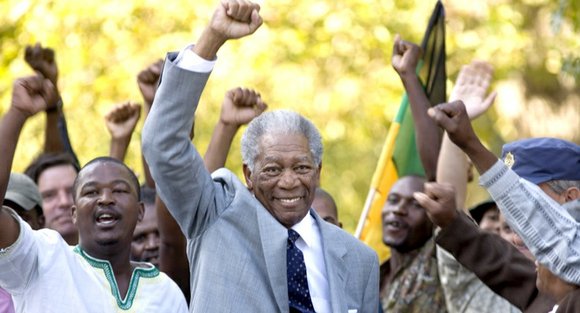 When Mandela is released from prison, his ANC colleagues inform him that Madikizela-Mandela's image is tarnished and that she cannot be the mother of the country. Viewers learn that she had overseen the necklacing (burning people alive using tires and petrol) of various Blacks working for the government. She had also been charged with the kidnapping and assault of 14-year-old Stompei Seipei, who was thought to be a traitor and killed by the football team.
Mandela, nevertheless, defends Madikizela-Mandela, explaining that she has given up so much. However, due to their growing differences, the couple eventually separates. They divorce in 1996.
Invictus (2009)
Named after a poem, Invictus is about Mandela's effort to encourage South Africa's national rugby team to win the Rugby World Cup in order to unite the country. Clint Eastwood was the director, and Morgan Freeman, Matt Damon and Tony Kgoroge starred in the film.
Understanding that there still remains a racial divide within the country, Mandela strives to unify South Africans using rugby. He convinces the National Sports Council to not change the team's name or colors, explaining that, while in prison, he learned that Whites loved the team. Changing the team, viewers learn, could mean the loss of White supporters.
He invites the team captain, Francois Pienaar, to the presidential residence for tea. They talk about motivation, and Mandela tells Pienaar that while he was on Robben Island, he recited the poem Invictus when he became discouraged.
Mandela gives the poem to Pienaar and urges him to push the team, which is having a bad season, to a championship win. For a while, members of Mandela's staff and his family are opposed to what he is doing, for they feel that he is letting Blacks down.
The team advances through the finals. They tour Robben Island and are inspired by Mandela's story of struggle and triumph. On the day of the Rugby World Cup, Blacks and Whites are watching the game and rooting for the team. The team wins and everyone cheers.
Goodbye Bafana (2006)
Directed by Billie August, and starring Dennis Haysbert, Joseph Fiennes and Diane Kruger, Goodbye Bafana outlines Mandela's relationship with his prison censor officer, James Gregory.
Gregory, a racist, grew up on a farm, and as a child, befriended a village youth named Bafana. Due to this friendship, Gregory learned how to speak Xhosa, Mandela's native tongue.
Therefore, Gregory is assigned to Robben Island to guard Mandela and to read and censor all his letters. He has to inform his boss about the details of Mandela's letters and conversations.
Over time, as Gregory learns more about Mandela, he begins to relate to and admire him.
When Mandela receives news that his first son has been killed in a car crash, Gregory convinces the guards to let Mandela grieve for a while and not do labor.
Through a series of furtive discussions, the two gradually develop a friendship. Gregory learns that Mandela is not a communist and that the ANC wants equality for all. Viewers also see him reading the Freedom Charter.