Mandela Movie Mania
Six movies chronical the life, love and work of a legend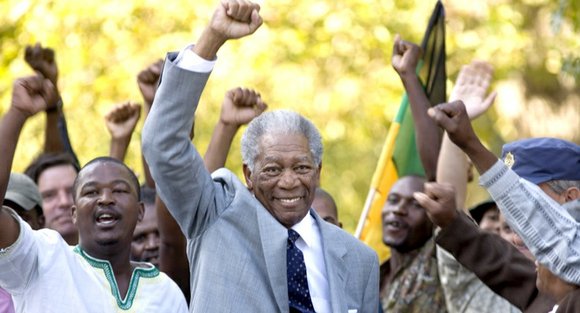 During one of Madikizela-Mandela's visits to the prison, Gregory gives her chocolate from Mandela for Christmas. This makes news headlines, and Gregory gets in trouble at work and is shunned by his community.
Gregory is ordered to follow Mandela to Pollsmoor Prison, where he plays a game of stick fighting with Mandela, and Victor Verster Prison. Mandela convinces Gregory to send his two children to college.
Right before Gregory's son graduates from college, he is killed in a car crash. Mandela comforts Gregory and explains how he still mourns the death of his own son.
Mandela is later released. Gregory congratulates Mandela and gives him a gift he received from Bafana as a child.
Mandela and de Klerk (1997)
Mandela and de Klerk, directed by Joseph Sargent and starring Sidney Poitier, Michael Caine and Tina Lifford, explains the political climate surrounding Mandela's prison release.
During Mandela's imprisonment at Robben Island, then South African President P.W. Botha suspects that Mandela is communicating with Tambo, an ANC leader exiled in Zambia. Furthermore, he fears that the political views of Mandela and his ANC friends will influence the other prisoners. Thus, he transports Mandela and his ANC friends to Pollsmoor Prison.
Due to the ANC's resistance toward the government, which has become increasingly violent, and the international "Free Mandela" campaign, Botha's advisors urge him to meet with Mandela. However, Botha declines, explaining that Mandela is a communist agitator and terrorist.
Later, Botha tells his advisors that foreign countries are opposed to South Africa's apartheid system and have instituted economic sanctions. He pledges to release Mandela if he agrees to not use violence to achieve political gain. Mandela is informed of this, but he still insists that the government meets with the ANC.
Three years after having prostate surgery, Mandela gets sick with tuberculosis due to the dank conditions of his cell. After his hospitalization, he is transferred to the Victor Verster prison.
Viewers learn that the government decided to move Mandela away from the rigorous prison life because they feared that he would die. They wanted to keep him alive, for his death, they believed, would potentially cause a race war between Blacks and Whites.
Botha is asked to resign from his position after having two strokes in the same year. He reluctantly does so, and government official F.W. de Klerk becomes president. Mandela meets with de Klerk, who believes that Whites could share power with Blacks. However, he is opposed to Blacks having complete rule, stating that if this were the case, Blacks would seek revenge on Whites.
De Klerk and Mandela have a rocky relationship. They accuse each other of corruption. At times, it appears that de Klerk is jealous of Mandela's popularity.
Eventually, de Klerk goes before Parliament and ends apartheid. With a day's notice, he tells Mandela that he will be released. At first, Mandela is opposed to this, thinking that his family won't have enough time to prepare. However, de Klerk makes a deal with Mandela, and Mandela is released the next day.