Mandela Movie Mania
Six movies chronical the life, love and work of a legend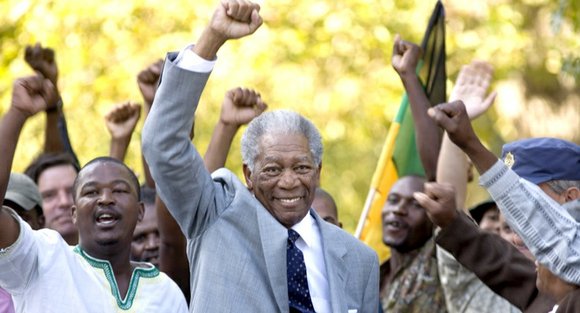 Mandela (1996)
Mandela is a documentary directed by Angus Gibson and Jo Menell. It featured Mandela himself and was made with his complete cooperation. The documentary provided an in-depth look at his childhood.
Viewers learn that Mandela was a descendant of Thembu chiefs and that his father named him Rolihlahla, which meant "troublemaker." Neighbors convinced his mother to send him to school. On his first day of school, his teacher gave him the name Nelson, in accordance with the tradition to give all school children Christian names.
As a child, Mandela was well-respected in his family, serious and possessed leadership qualities. One of his favorite pastimes was stick-fighting.
When Mandela's father became ill, he asked the village chief to educate Mandela. After his father's death, Mandela went to live with the chief, who had a son that was heir to the throne. The chief wanted Mandela to be his son's future advisor.
Mandela commented that as he grew up in the royal court, he would bring food and perform errands for the tribe's elders. He would hear them discussing his ancestors' valor in fighting against Europeans who arrived on the land in the middle of the 17th century.
In order for Mandela to become a good chief advisor, he would need to have a good education. Thus, the chief sent him to the best schools available to Blacks.
At the age of 16, Mandela had to participate in a customary coming-of-age ceremony for adolescent boys. Concluding the ceremony, Mandela mentioned that the tribes' leaders congratulated the new men and informed them that they would have limited opportunities because of the "White man's rule." The leaders added that it was their duty to fight for the liberation of their people.
When Mandela turned 23, he was scheduled to marry. However, Mandela expressed that his wife-to-be was in love with the chief's son. He and the chief's son considered this a problem and decided to run away together to Johannesburg.
They found work in the coalmines. The chief demanded that they return to the village. Nevertheless, Mandela decided to stay.
The films were adaptations of books, which included Playing the Enemy: Nelson Mandela and the Game That Made a Nation (2009), Winnie Mandela: A Life (2005), Long Walk to Freedom (1995), and Goodbye Bafana: Nelson Mandela, My Prisoner, My Friend (1995).