Monday Night Politics: Meet the Candidates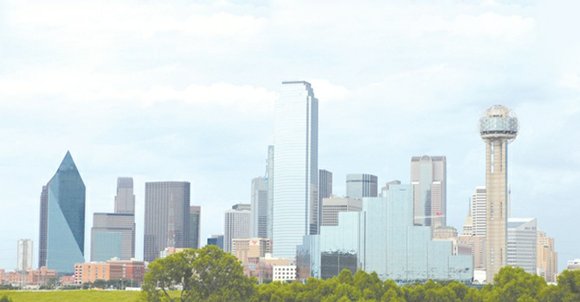 The Dallas Examiner
Last Monday night was the first of Monday Night Politics – Meet the Candidates for the March 4 Primary Election. Hosted by The Dallas Examiner, the forum's major sponsors include the Dallas Chapter of the NAACP, Dallas Alumnae Chapter of Delta Sigma Theta Sorority, Dallas Metropolitan Chapter of Delta Sigma Theta Sorority, Greater Dallas Urban League, Alpha Sigma Lambda Chapter of Alpha Phi Alpha Fraternity, Theta Alpha Chapter of Omega Psi Phi Fraternity, Dallas Pan-Hellenic Council, Dallas Association of Realtists, African American Museum, Iota Phi Theta Fraternity and our newest sponsor Omicron Mu Omega Chapter of Alpha Kappa Alpha Sorority.
There will be a Monday Night Politics forum every Monday night for the next six Mondays, with the last forum being held Feb. 17, prior to the first day of early voting. All future forums will be held at the African American Museum at Fair Park.
Attendees at Monday's forum had an opportunity to hear from: Valencia Nash and Vic Buchanon, candidates for the justice of the Peace Precinct 1, Place 2; Billy White and Juan Jasso, candidates for Justice of the Peace, Precinct 5, Place 2; and Cleophas Steele Jr., candidate for Constable, Precinct 1.
The attendance was excellent and enthusiasm about the upcoming election filled the room. People want to know who is running for office, why they are running, and why they feel these candidates are the best for their office.
The Democratic Party Ballot for March 4 has many contested races, each important to Dallas communities and individual citizens. The packed room showed that people are beginning to learn the importance of voting in primary elections.
But we have to remember, Blacks in Texas have not always been able to vote in primary elections. Prior to 1944, Southern Democratic Parties had White primaries. Non-White voters were prohibited from participating. Democrats controlled state legislatures and worked to disenfranchise Black voters by adopting measures to make voter registration more difficult with poll taxes, residency requirements, literacy tests and other Jim Crow laws. Consequently, there was a drop in Black voting across the South..
In 1944, the Supreme Court ruled in Smith v. Allwright (a Texas case) that the law excluding Blacks from participating in primary elections violated the Constitution.
New voters may not realize that the purpose of primary elections is to narrow the list of candidates running for office in each party before the main election. Both elections are equally important, because a missed opportunity to vote for your chosen candidate could mean that candidate may be eliminated from the ballot on Election Day.
Though most of us veteran voters know the importance of registering and voting, and how long Blacks have stood in long lines to exercise that right to vote, the number of Blacks participating in the process are dwindling, and we need to grab more voters.

However, Blacks still have greater rates of poverty, unemployment and educational inequality than their counterparts. Black men still have a greater percentage of dying in the streets than graduating from college. Diseases still afflict Blacks disproportionately more because of the lack of access to proper medical treatment.
Within the past few voting periods, slogans like "Rock the Vote!", Vote or Die!", "Yes We Can!", and the promise of "Change" seem to have rekindled the awareness that each vote counts and the drive for individuals to have their voice heard through their ballot.
Today, Blacks fully participate in the primary election process. We have Blacks on the ballot in many of the contested races. From now on we should have community support behind our candidates. Organizations and churches are taking active steps to ensure that the new voter ID requirements in Texas do not serve to disenfranchise Black voters and grassroots efforts are being made to ensure a large voter turnout on March 4.
Be part of the conversation. Send your letters to mbelt@dallasexaminer.com.